Assailant shot and killed after charging soldiers in Brussels 'terror attack'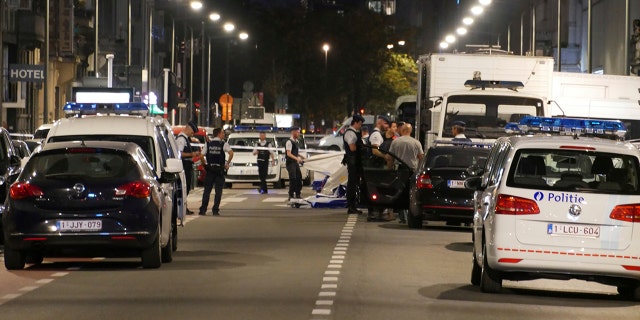 Belgian soldiers shot and killed a man who attacked them with a knife in the center of Brussels Friday evening in what authorities described as a terror attack.
Esther Natus, a spokeswoman for the federal prosecutor's office, confirmed the assailant twice shouted "Allahu akbar," Arabic for "God is great," as he ran at the soldiers on the Boulevard Emile Jacquin, a major street not far from the Belgian capital's main Grand Place tourist attraction.
"We do consider it a terror attack," said Natus, who declined to identify the man or confirm whether he was known to police.
Brussels Mayor Philippe Close said three soldiers came under attack and one had been hospitalized.
Belgian state broadcaster RTBF described the suspect as a Somali man of around 30 years of age. The report added that the suspect was not previously known to Belgian authorities.
Belgium's anti-terror crisis center said in a tweet late Friday that the "situation is under control."
Belgian Prime Minister Charles Michel also tweeted that "all our support is with our soldiers. Our security services remain on alert. We are following the situation closely."
A man who lives near where the incident took place told the Associated Press he saw the attacker lying in the street in the aftermath.
"I live right in front of the station. It was already blocked by police at the scene and there was a man lying on the ground. The police said he had been shot by soldiers," said Thomas da Silva Rosa, a public affairs consultant.
"He was lying on the ground, appeared dead," he told AP.
Belgium has been on high alert since suicide bombers killed 32 people in attacks March 22, 2016, on Brussels' main airport and subway system.
Soldiers and extra police have been deployed at public buildings and around large gatherings for more than a year.
The Associated Press contributed to this report.