Asian markets higher on Greek bailout hopes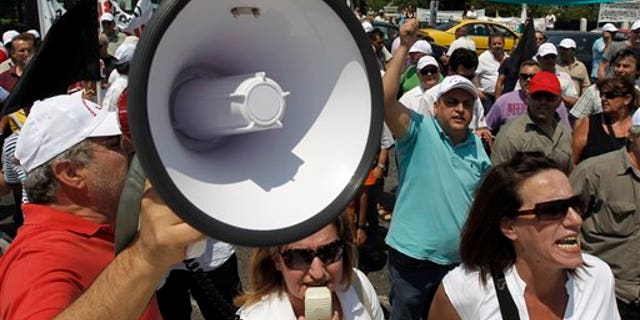 HONG KONG – Asian stocks were mostly higher on hopes that a solution to Greece's debt problems could be near even as talks between eurozone finance ministers broke up early Monday without an agreement.
Oil slipped below $93 a barrel while the dollar strengthened against the euro and yen.
Global stock markets were hammered for most of last week by fears that a default by Greece seemed imminent before rising Friday as hopes grew for a bailout deal. Investors fear a Greek default could set off a domino effect with other weak European economies.
Greece's prime minister confirmed Sunday his nation was talking with world lenders about a second financial rescue package "roughly equal" to what it received last year. Meanwhile, Luxembourg Prime Minister Jean-Claude Juncker, chair of the regular meetings of the 17 eurozone finance ministers, said Greece will get the next €12 billion of its existing €110 billion bailout package in early July, but only if it manages to pass new spending cuts and economic reforms by the end of the month.
But he said as long as parliament supports the new measures, he was certain that Greece would also get a second bailout that will keep it afloat over the coming years as it works to restore its struggling economy.
"All eyes remain on Greece," strategists at Credit Agricole CIB wrote in a research note. They added that "news this morning that the Eurogroup's final decision on the country's second bailout package has been delayed until early July will result in more uncertainty filtering through markets."
Japan's Nikkei 225 index was 0.6 percent higher at 9,406.84 while South Korea's Kospi rose 0.3 percent to 2,038.45. Australia's S&P/ASX 200 was 0.4 percent higher at 4,492.60 while Hong Kong's Hang Seng index rose 0.6 percent to 21,823.18. Benchmarks in Singapore, Taiwan and New Zealand also rose while mainland Chinese shares were lower.
On Wall Street last week, the U.S. stock market eked out its first week of gains since April, helped by signs a solution to Greece's debt problems were near.
The Dow Jones industrial average closed up 0.4 percent at 12,004.36. The Standard & Poor's 500 index rose 0.3 percent to 1,271.50. The technology-focused Nasdaq composite index lost 0.3 percent to 2,616.48.
Oil prices fell below $93 a barrel in Asia as a stronger U.S. dollar made commodities priced in the greenback more expensive to investors spending foreign currencies.
Benchmark oil for July delivery was down 64 cents to $92.37 a barrel in electronic trading on the New York Mercantile Exchange. The contract lost $1.94, or 2 percent, to settle at $93.01 on Friday.
In London, Brent crude for August delivery was down 95 cents to $112.26 a barrel on the ICE Futures exchange.
In currencies, the euro slipped to $1.4271 from $1.4315 in late trading Friday in New York. The dollar edged up to 80.13 yen from 80.06 yen.