As unemployment keeps rising, French government to unveil new plan to encourage hiring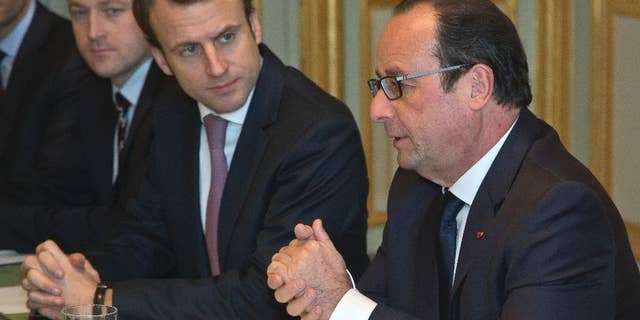 PARIS – Creating jobs in France is proving harder than expected.
The embattled Socialist-led government is making its second push this year to energize the labor market in Europe's second-largest economy, after a top economic official called the previous plan "a failure."
Although President Francois Hollande has made cutting unemployment the cornerstone of his tenure, the jobs market is in fact getting worse. Unemployment climbed to 10.4 percent in the third quarter from 10.1 percent in the previous three months despite a package of payroll tax cuts for businesses earlier this year that was meant to encourage hiring.
Economy Minister Emmanuel Macron will on Wednesday present a new bundle of policies — a "growth and activity" bill. It has sharply divided Hollande's own Socialist Party but drawn praise from France's powerful business lobby, Medef, which argues that previous efforts did not go far enough.
Macron is a former Rothschild investment banker who Hollande chose to replace Socialist firebrand Arnaud Montebourg last August. Four months into the job, Macron has been thrust onto the front lines of France's effort to create jobs — and save Hollande's.
"Macron's Law," as the bill has been dubbed, is a grab bag of measures aimed at boosting employment by freeing up some of France's notoriously inflexible labor rules and regulations.
The measures include relaxing rules on stores' Sunday and evening opening hours; removing some restrictions on new bus lines to increase competition with national rail operator SNCF; and opening up regulated professions such as notaries and auctioneers to greater competition.
The bill also calls for reforming France's complex system of labor relations boards and from five to six billion euros worth of sales from the French state's 76 billion-euro ($94 billion) holdings of corporate assets.
The French parliament will only begin debating the bill next month, but it's already sparked controversy, with opponents planning to demonstrate against it when it is presented at the weekly cabinet meeting Wednesday.
Owning up to his failure to meet a pledge to start cutting unemployment by 2013, Hollande said last month that if he still hasn't succeeded in the next two years, he won't run for re-election in 2017. The European Union, which has put France under surveillance along with a number of other countries for exceeding agreed limits to its deficit, forecasts France's unemployment rate to remain above 10 percent at least until 2016.
Hollande has blamed a lack of economic growth for unemployment's continued rise this year — unemployment was 9. 7 percent when he came into office in 2012, and has been rising since early 2008. French economic growth is only forecast to be 0.4 percent this year, and 1 percent in 2015.
Macron himself said the government's last big effort to relaunch the economy, the so-called Responsibility Pact, was a failure.
The pact announced by Hollande in January aims to ease payroll taxes by up to 40 billion euros ($50 billion) by 2017. In exchange, companies were expected to hire. Business owners, however, argue the government's efforts don't go far enough to reduce labor costs, and earlier this month thousands of business owners protested in the streets of Paris and Toulouse against taxes and regulations.
Business owners are not the only ones dissatisfied with the economy's handling. A survey published by French business daily Les Echos on Monday showed nine out of 10 French people disapprove of the government's economic policy.
___
Follow Greg Keller on Twitter at https://twitter.com/Greg_Keller