As U.S. Economy Recovers, Central American Migrants Get To Send Money Home Again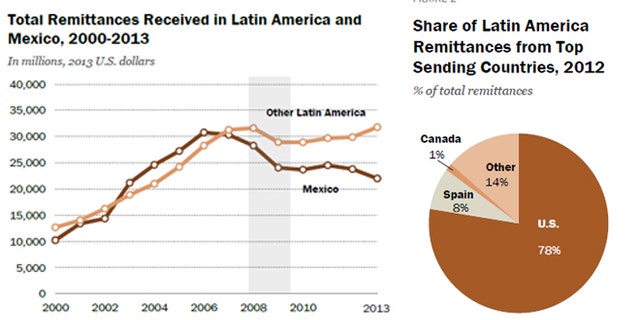 The amount of money U.S. immigrants sent to their families in Latin America returned to pre-recession levels – except in Mexico.
According to a study by the Pew Research Center released Friday, U.S. Latino immigrants sent an overall $53.8 billion to Latin American nations – more than double the amount sent in 2000 – but still below the $61.6 billion immigrants sent to their families in 2007 when the global recession began.
The U.S. is the most important source of remittances to Latin America, in fact, 17 Latin American countries receive more money from immigrants in the U.S. than they do in foreign aid. According to World Bank data cited by Pew, remittances accounted for a tenth or more of the gross domestic products of El Salvador (16.5%), Honduras (15.7%), Guatemala (10%), and Nicaragua (9.7%).
Latin nations received a total of just $6.2 billion in aid – eight times less – than the remittances pumped into the region's economies.
Despite all that, the amount of money sent home by immigrants to Mexico has decreased each year since 2011.
Remittances to Mexico account for 40 percent of all money sent to Latin America from the U.S.. $22 billion in 2013, according to Pew. That's 29 percent below the 2006 peak. At the same time, the other 17 Latin American countries saw remittances of $31.8 billion slightly surpass their 2008 peak.
The report suggests two possibilities as to why Mexican immigrants are not sending as much money back home as they used to.
One is the housing market crash of 2008, which had a direct impact on the number of Mexican migrants who could find work in construction. The second is the record number of deportations during President Barack Obama's administration.
A 2008 Pew Research Center survey from 2008 found that 54 percent of foreign-born Hispanics and 17 percent of U.S.-born Latinos said they send money to their countries of origin.
The Latin American nations with the highest amount of remittance money from the U.S. also happen to be the four countries with the largest number of immigrants in the U.S.: Mexico, El Salvador, Guatemala and Honduras.
Follow us on twitter.com/foxnewslatino
Like us at facebook.com/foxnewslatino