As refugees suffer, UN throws a grandiose humanitarian summit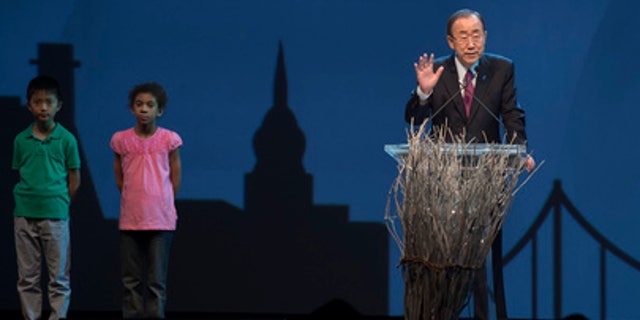 While tens of millions of people endure displacement, starvation and violent death from long-running wars and unexpected disasters, the United Nations is hosting an international humanitarian summit, hoping to shake up a tottering global aid system. But the much ballyhooed summit is taking place without President Obama or Russia's Vladimir Putin.
The U.N.'s top humanitarian relief official, Stephen O'Brien, has described the two-day Istanbul meeting, which continues through Tuesday, as a "once-in-a-generation opportunity to set in motion an ambitious and far-reaching agenda to change the way that we alleviate, and most importantly that we prevent, the suffering of the world's most vulnerable people."
Whether the rest of the world agrees about the consequences of what the U.N. calls "the first-ever World Humanitarian Summit" is another question.
Along with Obama and Putin's absence, the conference will be missing representatives from one of the world's most successful and dynamic relief organizations, Medicins Sans Frontieres/Doctors Without Borders, which pulled out of the summit earlier this month, calling it "a fig leaf of good intentions."
MSF declared it "no longer had any hope" that the U.N. gathering "will address the weaknesses in humanitarian action and emergency response, particularly in conflict areas or epidemic situations" which are its own focus. (MSF says it has had more than 50 of its workers killed in combat zones so far this year.)
"Our core competency is not squarely at the center of the agenda," says Jason Cone, executive director of MSF's U.S. section. While acknowledging the summit has other aims, he underlined a concern that the U.N. aid system in many areas "is not reaching the needs of the people," and is "really far removed from the day-to-day reality of most refugees."
Cone indicated that a number of other humanitarian organizations, which had not joined in MSF's pullout, shared his organization's concerns.
Donor fatigue has clearly set in. Less than 20 percent of the current U.N. humanitarian financial goal is so far funded. In the overwhelming Syrian regional disaster, less than a quarter of the $4.6 billion required for relief has so far appeared, according to the U.N.'s Financial Tracking Service. Of another $3.2 billion required for Syria itself, only 14 percent is funded.
The challenges that the summit meeting claims to be facing, however, are stark and still growing: some 60 million people displaced or otherwise gravely affected by what one aid official calls a "gigantic spike in conflict-related violence"; and tens of millions more affected by other social or natural disasters.
The lack of resolution to long-running conflicts like those in Central African Republic, Liberia and Syria means that refugees also live in degraded, limbo status for much longer: currently an average of 17 years.
Meantime, the bill to alleviate some of that suffering is rising steeply. In 2016, funding for humanitarian relief is already estimated by O'Brien's U.N. Office for the Coordination of Humanitarian Assistance at some $20.8 billion to help 90.1 million desperate people in 40 countries, virtually triple what was requested four years ago.
Meantime, the United Nations High Commissioner for Refugees has just launched a new appeal to make up a $500 million shortfall in providing the basics of shelter for some 2 million people.
One reason for the shortfall is that the U.N. has largely kept returning to the same financial well. Five nations and groups—The U.S., Britain, Germany, Japan and the European Commission—are always the Top Five among generous nations, followed by other Western nations and the global private sector.
Chief among them, of course, is the U.S., which has already given or pledged some $2.4 billion in humanitarian aid so far this year. Last year, the U.S. gave $6.25 billion -- nearly one-third of the world's relief giving.
"The U.S. has been the most generous donor in the world," says Jeremy Konyndyk, Director of USAID's Office of U.S. Foreign Disaster Assistance. "We feel very strongly that we are doing our part. This is not a pledging conference. We are not making new pledges."
Another reason, however, is concern with the way that U.N. agencies charged with delivering aid to the suffering, especially in conflict situations where one side is a U.N. member state, have performed at fulfilling those obligations -- especially in the world's ugliest vortex of violence, Syria.
And yet another reason may well be the kind of response to disaster that is reflected in the summit itself. The U.N. meeting has taken four years to organize, involved two years spent on an elaborate and vaporous "consultation" with more than 23,000 people around the world, and will embed the outcome in a thicket of other ongoing U.N. global improvement campaigns, ranging from its Sustainable Development Goals to "global frameworks for disaster risk reduction."
(Among other things, the consultations, the U.N. said, "have generated a demand for a vision of a world whose fundamental humanity is restored, a world where no one confronted by crisis dies who can be saved, goes hungry, or is victimized by conflict because there is not enough polit­ical will or resources to help them.")
U.N. officials declined to provide the cost of the gathering, saying that most of the funds had been provided by the host government of Turkey. A query from Fox News to Turkey's U.N. mission about the cost was not answered or acknowledged before this story was published.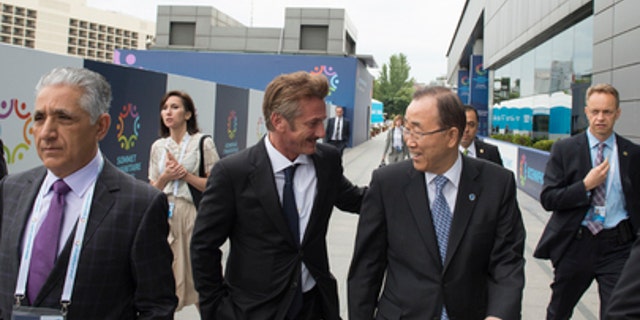 Even without hard figures, the lavish and extensive scale of the meeting underlines that "it's a very expensive, costly process," says Michael Bowers, vice-president of humanitarian leadership and response at Mercy Corps, a U.S. based non-government organization that provides humanitarian aid in some 40 countries.
Mercy Corps is attending the summit, and attaches considerable importance to many of the objectives, but Bowers says, "I would not be advocating this type of gathering" to meet the acknowledged crisis.
What is likely to ensue is more U.N. process. The summit will attempt to get governments around the world to endorse a series of non-binding and vague "core commitments" ostensibly along the far-reaching and preventive lines O'Brien mentioned.
These include:
? "a new approach" to the world refugee crisis that recognizes the needs of longer-term refugees;
? promises to "address root causes of conflict" and "act early upon potential conflict situations" to keep humanitarian catastrophes from growing;
? supporting countries that host large numbers of refugees with "the necessary political, policy and financial support to address the humanitarian and socio-economic impact;"
? "promote and enhance respect for international humanitarian law" and other codes that supposedly keep civilians and aid workers from being attacked;
? and "increase substantially and diversify global support and share of resources for humanitarian assistance."
"The commitments are supposed to drive further thinking on how to take the mission and make it real," observes Bowers, and also to involve as many groups as possible in that process.
One of the "core commitment" hopes of the summit is that it will encourage rich Gulf states, as well as countries such as China, to join the humanitarian financing club on a more permanent basis, dig deeper -- as well as prompt new and innovative methods of financing relief efforts, and greater private sector involvement.
There is a long way to go on that front. Last year, the United Arab Emirates ($722 million) and Saudi Arabia ($533 million), were also in the top roster of humanitarian donors. This year, neither one has made similar efforts, at least so far.
U.N. officials talk of another summit purpose as helping to weld the humanitarian agenda to the "development" agenda-- long-term anti-poverty spending -- as a means of dealing with the mammoth size and duration of the refugee wave -- a viewpoint that is endorsed by many other relief organizations.
According to USAID's Konyndyk, improving the coherence between relief assistance and development assistance is a major U.S. aim at the meeting. "Right now they don't interact very well," he told Fox News. "This is particularly unhelpful when conflicts go on and on."
Among other things, the summit will include the unveiling of a new international fund for education, under the auspices of former British Prime Minister Gordon Brown, to help deal with the long-term effect of failure to provide educational services to the huge number of child refugees caught up in disaster.
However, says Konyndyk, "We are not looking at any major revamping of the system. We are looking differently at how U.N. agencies can work together."
But the U.N. version of development refers to the large and wildly fragmented world of U.N. agencies, funds and programs devoted to economic and social welfare whose activities, according to one independent study done for the U.N., "have never been formally defined to the point that there exists an agreed understanding on what they mean."
And there has been considerable evidence that the development arms of the U.N. shop, led by the United Nations Development Program, don't accomplish their own aims that well.
The biggest challenge to the elaborate pomp and circumstances of the Istanbul summit, which claims to be seeking solutions to "root causes" of the refugee crisis, is that the biggest cause of all is not yet addressed.
There are, as yet, few signs of the political will needed to accomplish what the U.N. summit calls "Core Responsibility 1" of leaders attending the meeting -- to prevent and end the wave of long and unresolved conflicts, in Africa, the Middle East and elsewhere, that are currently driving the refugee catastrophe.
"Labelling a conference 'humanitarian' almost guarantees it immunity from criticism," observes former U.S. Ambassador to the U.N. John Bolton, a Fox News contributor. "But if any discernible change emerges from this summit that could not have been accomplished in a less grandiose way, I will be stunned."
George Russell is editor-at-large of Fox News and can be found on Twitter: @GeorgeRussell or on Facebook.com/GeorgeRussell