Arrangements made to free 21 UN peacekeepers held by Syrian rebels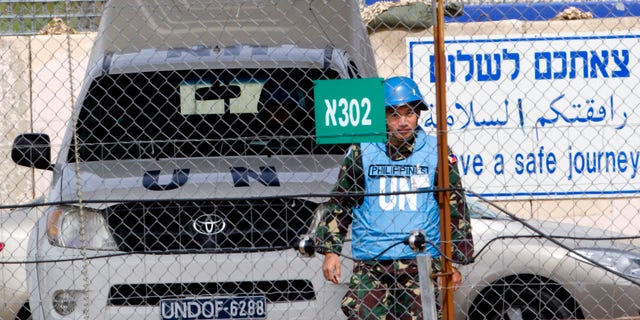 UNITED NATIONS – The United Nations says arrangements have been made with all parties for the release of 21 peacekeepers being held captive by Syrian rebels, hopefully on Saturday.
Josephine Guerrero, a spokeswoman for the U.N. Peacekeeping Department, said the U.N. peacekeeping mission monitoring a cease-fire line between Israel and Syria sent a team to the village where they are being held Friday, but because of the late hour and darkness "it was considered unsafe to continue the operation."
She said efforts will continue Saturday to release the Filipino peacekeepers.
The peacekeepers were taken near the Syrian village of Jamlah, less than a mile from the Israeli-controlled Golan Heights, where a U.N. force has patrolled a cease-fire line between Israel and Syria for nearly four decades.
Last week, rebels from the Martyrs of the Yarmouk Brigades, the group holding the peacekeepers, overran several Syrian army checkpoints in the area, said Rami Abdul-Rahman, head of the Britain-based Syrian Observatory for Human Rights.
On Friday, rebels attacked regime forces in the village of Abdeen south of Jamlah, setting off heavy clashes, the Observatory said. Regime helicopters bombed the area, the group said.
Philippine Defense Secretary Voltaire Gazmin said President Benigno Aquino III has ordered a review of the country's peacekeeping missions.
A contingent of more than 300 Filipino peacekeepers is part of the U.N. force, known as UNDOF. Filipino peacekeepers also serve in Haiti and Liberia.
The kidnapping has underlined potential complications from the Syria conflict. Israel is concerned about the Syria fighting spilling across the frontier.
Meanwhile, Syrian President Bashar Assad "is not bluffing" about his determination to stay in power, Russia's foreign minister said in comments broadcast Friday, as negotiations to free 21 U.N. peacekeepers held by Syrian rebels dragged into a third day.
Also, the World Food Program said it aims to feed 2.5 million Syrians by next month, up from 1.7 million now. Need has risen sharply as growing numbers of Syrians are displaced by civil war and the country's economy is disintegrating.
The uprising against Assad erupted two years ago, with primarily peaceful protests deteriorating into a brutal civil war, initially in response to a harsh regime crackdown on dissent. More than 70,000 people have been killed, according to U.N. estimates.
The conflict has been deadlocked, with neither side able to get the upper hand, although the rebels have scored a series of strategic victories in recent weeks, seizing a provincial capital in the northeast, capturing the country's largest dam and overrunning a number of smaller military bases.
Russian Foreign Minister Sergey Lavrov told the BBC in an interview broadcast Friday that the Syrian leader is digging in.
Assad "is not going to leave," Lavrov said. "We know this for sure, and all those who get in touch with him know that he is not bluffing."
Lavrov said Russia, a close Syria ally, will not pressure Assad to leave.
"It's not for me to decide, it's not for anybody else to decide, except the Syrian people," Lavrov said.
Syria's opposition has criticized the West for not helping arm rebel fighters at a time when Russia and Iran are supporting the regime with weapons.
Earlier this week, Britain announced it would provide armored vehicles and other equipment to the rebels, while stopping short of arming them. The West has balked at sending arms, fearing the weapons could fall into the hands of Islamic extremists fighting in the rebel ranks.
In India, Assad adviser Buthaina Shaaban said Britain's decision will only prolong the fighting. She alleged that most of the rebels are linked to the al Qaeda terror network and conservative Islamic groups.
"Britain should not think that terror activities by such groups in Syria, will not one day go back to haunt Europe or Britain," said Shaaban who is in India for talks with Indian leaders to rally support for Assad.
Since the conflict began, nearly 4 million of Syria's 22 million people have been driven from their homes by the fighting, according to U.N. estimates. This includes refugees in neighboring countries and some 2 million who have sought shelter inside Syria.
In one recent wave, more than 20,000 families fled fighting in the northeastern Raqqa province, seeking refuge in the neighboring district of Deir el-Zour, according to the World Food Program.
The U.N. agency said that in recent days it distributed food to some 20,000 people in public shelters in Deir el-Zour. More food trucks are to deliver food there Friday.
Earlier this week, Syrian rebels completed their capture of the provincial capital of Raqqa after several days of fighting. The takeover marked the first time rebels seized a major Syrian city. Raqqa has a population of about 500,000.
In addition to the internally displaced, Syrians who remain in their homes are also in increasing need of food aid, the agency said. The Syrian economy has been hit hard by the 2-year-old conflict, and basics such as food and fuel are becoming scarce in many areas.
"The needs are huge and are growing," said Elisabeth Byrs, a spokeswoman for the WFP. "It's kind of a vicious cycle, the collapse of the economy, and more and more people are displaced."
She said the U.N. agency distributed food to 1.7 million Syrians in February, with the help of local partners. The agency plans to reach 2 million in March and 2.5 million in April, she said.