Arizona Sheriff Joe Arpaio sues President Obama over immigration moves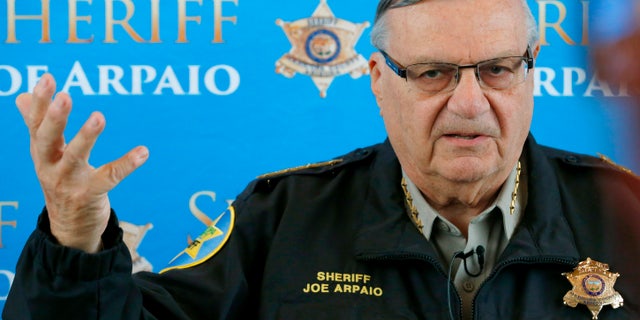 NEWYou can now listen to Fox News articles!
PHOENIX – Maricopa County Sheriff Joe Arpaio filed a lawsuit Thursday to stop the new immigration policies announced by President Barack Obama — he contends Obama acted outside his constitutional authority by not going through Congress.
In the lawsuit, the long-standing Arizona sheriff asks the court to block the changes that include making an estimated 5 million immigrants who are in the U.S. illegally eligible for work permits and for protection from deportation.
Arpaio said he went to court on behalf of himself and all Americans.
"I am not seeking to myself enforce the immigration laws as this is the province of the federal government," he said in a statement. "Rather, I am seeking to have the president and the other defendants obey the U.S. Constitution."
The lawsuit said Obama was "hijacking" previous immigration regulation and law by changing the definition of key terms to "create a radically new and different regime of immigration law and regulation."
Arpaio's lawsuit was filed by Larry Klayman, a conservative activist and attorney who has filed hundreds of lawsuits against the federal government. He founded the government watchdog group Judicial Watch in 1994 and left the group in 2003.
Obama's administration previously stripped 100 of Arpaio's deputies of their powers to make federal immigration arrests and filed a pending lawsuit against the sheriff's office alleging racial profiling and other civil rights violations.
Arpaio, a frequent critic of the administration's deportation policies, has said the lawsuit against his office was a politically motivated attack by the administration aimed at courting Latino voters.
Arpaio's volunteer cold-case posse also has investigated the authenticity of Obama's birth certificate.
Obama laid out his executive actions during a prime-time television address Thursday.
His changes would mainly cover parents of U.S. citizens and of legal residents as long as the parents have been in the U.S. for five years or more.
Obama also changed enforcement priorities by emphasizing the deportation of new illegal arrivals and criminals.
Republicans in Congress have accused Obama of exceeding his authority by not going through Congress. In his televised speech, Obama said his hand was forced by congressional inaction to fix the broken immigration system.
Based on reporting by the Associated Press.