Arizona Sheriff Joe Arpaio back in court over contempt violations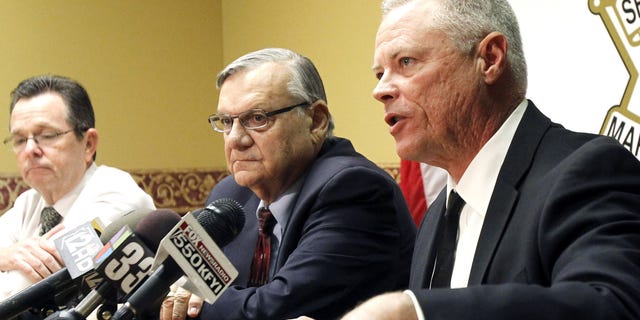 Arizona Sheriff Joe Arpaio could face jail time and fines after being found in civil contempt of court for violating a judge's order in a high-profile racial profiling case.
A federal judge is expected to hold a hearing Tuesday examine ways to address the Maricopa County sheriff's actions. It could bring greater court oversight to Arpaio's office and could lead to a criminal contempt case.
Arpaio was found in civil contempt two weeks ago for disobeying court orders in the profiling case, including letting his immigration patrols continue after the judge ordered them stopped.
Lawyers who pressed the case against Arpaio are urging the judge to recommend a criminal investigation against the sheriff and his second-in-command, Jerry Sheridan.
The sheriff's office was put under court supervision after the judge ruled three years ago that Arpaio's officers had profiled Latinos. In response, the judge imposed an overhaul on the agency, such as giving officers training on how to conduct constitutional traffic stops.
The May 13 civil contempt decision by U.S. District Judge Murray Snow said Arpaio deliberately misstated facts last year when he denied in court that he had conducted an investigation of the judge. It also offered a bruising critique of Arpaio's efforts to conduct internal investigations of alleged misconduct and mismanagement against his officers and managers.
Lawyers at a hearing Tuesday are expected to discuss negotiations on how Maricopa County taxpayers will compensate Latinos who were illegally detained during the 18 months that Arpaio's office violated the order.
The lawyers who won the profiling case say Arpaio should be required to pull $300,000 out of his own pocket to help compensate Latinos who were illegally detained in violation of the order. The sheriff's attorneys, in turn, said Arpaio and Sheridan are willing to contribute a combined $100,000 to a Hispanic civil rights organization and publicly acknowledge their contempt violations.
Snow also has said he wants to explore invalidating several internal investigations against sheriff's employees and getting an independent investigator to re-examine the allegations.
It's unclear whether the prospects of a criminal contempt case will be discussed at Tuesday's hearing.
Taxpayers have spent $41 million in the case over the last eight years, covering legal fees, training for officers, a staff to monitor Arpaio's office on the judge's behalf, and other costs. Another $13 million is set aside for the coming year.
The county hasn't estimated the potential costs for compensating Latinos pulled over in violation of the order, but a county official has said he personally believes the figure is over $1 million.
Based on reporting by the Associated Press.