Arizona Sheriff Arpaio faces toughest campaign challenge yet amid profiling probe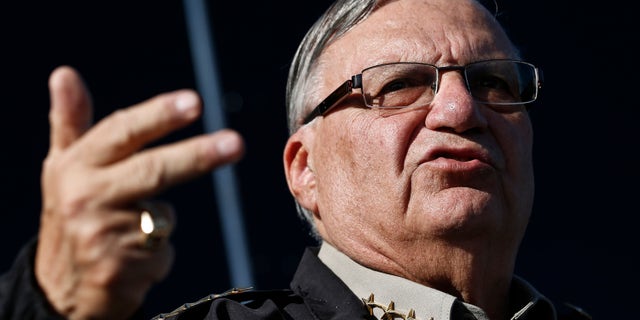 NEWYou can now listen to Fox News articles!
PHOENIX (AP) – Sheriff Joe Arpaio faces three Republican challengers in Tuesday's primary in what has turned out to be the toughest election in his 23 years as the top law enforcer in metro Phoenix.
The 84-year-old sheriff of Maricopa County is pitted against former Buckeye Police Chief Dan Saban, retired sheriff's deputy Wayne Baker, and Marsha Hill, a former commander of a volunteer sheriff's posse.
The winner will face Democrat Paul Penzone, a retired Phoenix police officer, in the Nov. 8 general election. Penzone, who unsuccessfully challenged Arpaio in 2012, is the only Democrat in the race.
Arpaio is seeking a seventh term as he experiences the worst legal troubles in his career.
Over the past four years, a judge has ruled Arpaio's officers racially profiled Latinos, the courts took away the sheriff's immigration powers, and Arpaio was found in civil contempt of court for defying court orders in the profiling case.
This month, the judge presiding over the profiling case asked prosecutors to pursue a criminal contempt case against Arpaio for prolonging his immigration patrols months after the court ordered them stopped.
The sheriff has been criticized in the past for saddling taxpayers with huge legal bills by creating contentious immigration and jail policies that were later challenged in court. The taxpayer costs from the profiling case alone are projected to reach $54 million by next summer.
Arpaio said his strong connection with voters will help him overcome the negative attention from the case. He said more people than ever have told him over the past two or three years that he is doing a great job. "I think I have seen that more than I have in the past 20 years," Arpaio said.
The sheriff rose to national political prominence by jailing inmates in tents in triple-degree summer temperatures and dressing them in pink underwear, and by cracking down on illegal immigration.
In recent years, Republican presidential candidates have sought Arpaio's endorsement.
He has thrown his support this year behind Donald Trump and stumped for the GOP nominee at three Arizona rallies, including a huge gathering in March in the affluent Phoenix suburb where the sheriff lives. He also gave a speech at the Republican convention in which he said Trump would prevent immigrants from sneaking into the country.
Arpaio has seen his popularity wane over the past four elections. The 2012 race marked his second-closest election as sheriff; he defeated Penzone by 6 percentage points.
Still, the $11.3 million in campaign money Arpaio has raised — most of it from people living in other states — far exceeds his opponents' fundraising. Saban raised $30,000, while Baker brought in $40,000, and Hill reported $15,000.
Arpaio's challengers have promised to bring more professionalism and less self-promotion to the job.
Saban said Arpaio has rendered himself useless as a law enforcement professional and uses the taxpayer-funded public relations operation in his office to promote himself above all other priorities. "His failures just cannot be ignored anymore," Saban said.
Baker said he launched his campaign to fight on behalf of hardworking sheriff's office employees who have been mistreated during Arpaio's tenure.
"We need to get the morale back into the office," Baker said. "I don't think Arpaio cares much about employees unless you are part of his little group."
Hill, who has attended countless hearings in Arpaio's racial profiling case as a spectator, said she felt she had a civic obligation to challenge the sheriff.
"I said, 'I know too much to not do something about this,'" Hill said.