Arizona mother dies after giving birth to quadruplets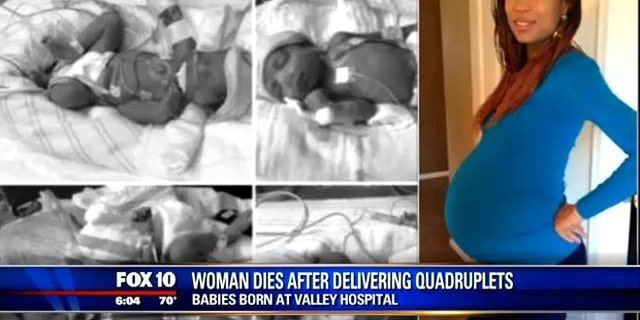 PHOENIX – A family's joy quickly turned to tragedy. Hours after giving birth to quadruplets, the brand new mother passed away leaving those babies with only their father.
36-year-old Erica Morales and her husband Carlos did everything they could to become parents.
"This is all they wanted, to have this family, to make their family complete. It's like that fairytale story," said Christina Todman, Erica's cousin and best friend.
FOX 10 News | fox10phoenix.com
With the help of doctors, Erica got pregnant with quadruplets. She delivered four healthy babies. The three girls and one boy were delivered at Banner Good Samaritan in Phoenix Thursday.
Hours after giving birth, Erica passed away in the hospital. The family says they do not yet know what went wrong.
"She never got to hold them, she never got to see them," said Nicole Todman, Erica's cousin. "It is so hard to know she fought so hard for her children. She will never get to brush their hair, hold their hand, watch them get married, none of that will ever happen for her."
The family said Erica's hope was always to bring her children into the world, healthy. She did everything leading up to the deliveryto keep them safe.
"We'll have to remember her, we'll have to tell her kids who she was, we'll have to make sure they know how wonderful a person she was, how loving and how much she wanted them, and how much she loved them," said Nicole Todman.
Family and friends say they will help Erica's husband raise the four babies, Carlos Jr. Paisley, Tracy, and little Erica.
The family is accepting donations. If you would like to help visit: http://www.gofundme.com/kbkpag.