Argentinian prosecutor allegedly murdered had drafted warrant for President Fernandez's arrest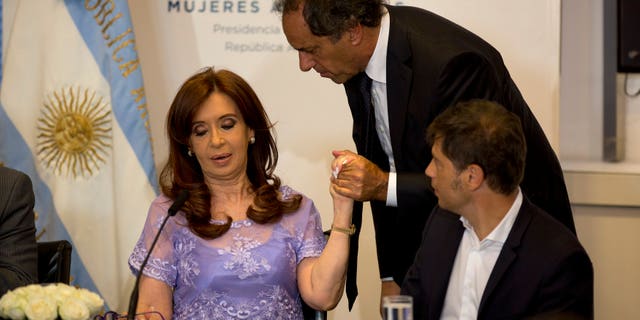 NEWYou can now listen to Fox News articles!
The Argentinian prosecutor investigating the death of her colleague, Alberto Nisman, said he had prepared a warrant for the arrest of President Cristina Fernandez.
The draft, however, was later removed and was not included in his complaint against the president, accusing her of trying to protect Iranian nationals suspected in the 1994 bombing of a Jewish center.
The prosecutor, Viviana Fein, had at first denied the existence of the arrest warrant after it was published in Clarín, but later said it indeed existed.
Fein said Nisman prepared the warrant for President Fernandez's arrest but ultimately did not include it in his complaint alleging the president tried to cover up the suspected Iranian involvement in the bombing of a Jewish center.
The 26-page document was recovered from a garbage can in Nisman's Buenos Aires apartment, where he was found dead January 18. Fein came under fire for not disclosing the warrant's existence earlier.
"I am beyond any political stance and am not under any pressure, I am an independent person in my way of thinking and acting; I want to state that very clearly," she was quoted by Clarin newspaper as saying.
Investigators are trying to determine whether Nisman killed himself, was murdered and was forced to commit suicide. Senators Marco Rubio, Bob Menendez and Congresswoman Ileana Ros-Lehtinen have called for an independent probe into the prosecutor's death.
EFE contributed to this report.
Like us on Facebook
Follow us on Twitter & Instagram