Argentinian official claims dead prosecutor Nisman used funds for kickbacks and women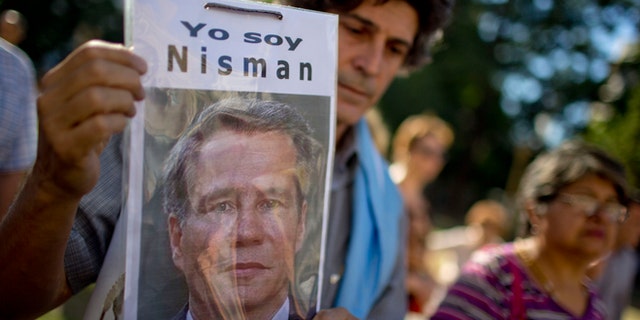 BUENOS AIRES (AP) – A top Argentine government official on Wednesday accused a prosecutor who was mysteriously found dead of illegally using state money for a kickback scheme and to wine and dine women.
Cabinet chief Anibal Fernández told reporters that prosecutor Alberto Nisman illegally used funds dedicated to the prosecutor's investigation into the 1994 bombing of a Jewish community center that killed 85.
"We are among many scoundrels, including Nisman," said Fernández.
Citing the government investigation, Fernández said Nisman used money to entertain women and to pay an inflated salary to Diego Lagomarsino, a friend and aide to Nisman who acknowledged lending the gun to the prosecutor that was used in his Jan. 18 death. Fernández said Lagomarsino, a computer technician, was paid 41,000 pesos ($4,823) a month and gave 20,000 pesos ($2,352) back to Nisman.
Lagomarsino's lawyer, Maximiliano Rusconi, declined to answer questions Wednesday after meeting with investigators. Messages left on his cell phone were not immediately returned.
On Tuesday, Rusconi said that revelations about his client's financial relationship with the prosecutor would show "behavior by Nisman that at the very least was questionable." Without offering details, he said he believed the government would use the information "to damage Nisman's image."
Nisman was found dead in his bathroom a few days after accusing President Cristina Fernández of helping several Iranian officials cover up their alleged role in the Jewish center bombing, the country's worst terrorist attack. Fernández has strongly denied the accusations but her government has struggled to manage the fallout from Nisman's death.
Nobody has been arrested, and polls show Fernández's popularity has taken a hit eight months before presidential elections. Fernández, constitutionally prohibited from running for a third term, has yet to designate a top candidate from her party, which currently controls both chambers of Congress.
The president and other government officials have repeatedly suggested Lagomarsino might have been involved in Nisman's death. However, Viviana Fein, the lead investigator in the case, has said Lagomarsino is not a suspect.
Nisman's death and his case against the president, which was last month was thrown out by a judge and is currently under appeal, have rocked the South American nation of more than 40 million.
On Wednesday, about 100 people demonstrated outside a courthouse to demand justice for Nisman, the latest of dozens of protests since his death.
During the protest, philosopher and writer Santiago Kovadloff criticized the government for going after somebody who couldn't defend himself.
"When a dead man is attacked in this way he is actually alive because it means he is important," said Kovadloff.