Argentine provincial police strike for more pay prompts looting, robberies, death in Cordoba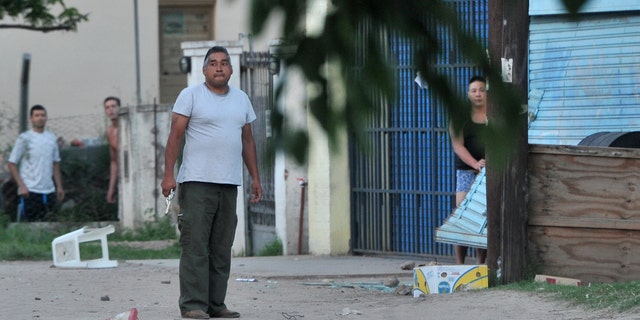 BUENOS AIRES, Argentina – A police strike for higher pay — which the governor blamed on his closure of brothels that provide a money stream to corrupt officers — has prompted waves of looting and robberies in Argentina's second largest city.
The violence in Cordoba began Tuesday night and continued Wednesday morning, with storefronts being shattered, mobs stealing merchandise, robbers attacking people in the streets and vigilantes arming themselves to protect their homes. More supermarkets and a mobile television van recording the violence were attacked this morning, even as officers and provincial authorities began negotiations to end the strike.
Hospital authorities reported one shooting death and more than 100 injuries, mostly from shattered glass.
Gov. Jose Manuel de la Sota said before going into negotiations with police that 56 people have been arrested in the violence.
He said he's offered a 52-percent pay increase, including bonuses for street work or extra duty, for a total of 12,600 pesos a month, which he called "the best salary for police in Argentina," according to Cordoba's Voz del Interior newspaper. That represents about $2,044 monthly at official exchange rate, or about $1,350 at the black market rate many Argentines consider to be a more reliable measure of their money's value.
Miguel Ortiz, a lawyer representing the police, told reporters that the provincial government had "verbally" accepted the officers' demand for a bit more — 13,000 pesos — and that he expected an accord to be signed later Wednesday.
De la Sota also described the strike as a police response to his decision to close 140 brothels that provide income to corrupt officers. "We know that this, which is a terrible business, horrible, is linked to drug trafficking and that it would bring us problems sooner or later," the governor said.
De la Sota, a political rival of President Cristina Fernandez who has long complained that his province is denied its share of national resources, was returning from Colombia as the violence broke out. He said the presidency denied his government's initial appeals for help.
Cabinet Chief Jorge Capitanich denied turning away any requests for assistance, and said the national government had been monitoring the situation while the governor was out of the country. He said de la Sota was trying to shift the blame for a problem that was entirely his responsibility.
National Security Chief Sergio Berni said 2,000 border police would be deployed in Cordoba by Wednesday afternoon to help restore the peace.