Argentine leader mentions Falklands in chat with British PM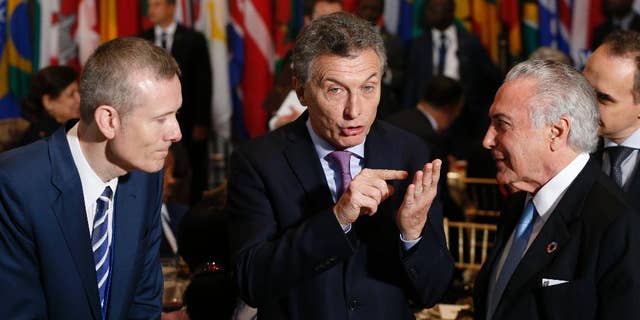 NEWYou can now listen to Fox News articles!
UNITED NATIONS – Argentine President Mauricio Macri said he spoke informally with British Prime Minister Theresa May on Tuesday and brought up the dialogue the countries have re-established in hopes of resolving the dispute over the Falklands Islands.
Macri told reporters the encounter after a United Nations lunch was "a minute" and "very informal." The two leaders had a similar encounter 10 days ago at the G-20 summit in China.
He separately told the official Argentine news agency Telam that he greeted May and told her that "he is ready to start an open a dialogue that includes, of course, the issue of the sovereignty of the Malvinas." The islands are referred to as the Malvinas in Argentina.
Macri said the British leader responded with a "yes, that we should start to talk," according to Telam.
Argentine Foreign Minister Susana Malcorra later cautioned that while the sovereignty of the disputed islands is something to be discussed with Britain, it would be "a big step to say that the issue is on the table."
There was no comment from the British government.
Tensions between Argentina and Britain have eased since Argentine President Cristina Fernandez left office and Macri assumed the post promising a less-confrontational stance.
Last week, the two governments announced that they had agreed to lift restrictions affecting the islands, in a thawing of relations. The sides agreed to increase the number of flights between the Falklands and Argentina, adding one new stop a month in each direction.
Argentina lost a 1982 war with Britain after Argentine troops seized the South Atlantic archipelago.
Argentina claims Britain has illegally occupied the islands since 1833. Britain disputes the claim and says Argentina is ignoring the wishes of the 3,000 residents, who wish to remain British.