Argentina and U.S. creditors reach $4.65 billion settlement to end debt spat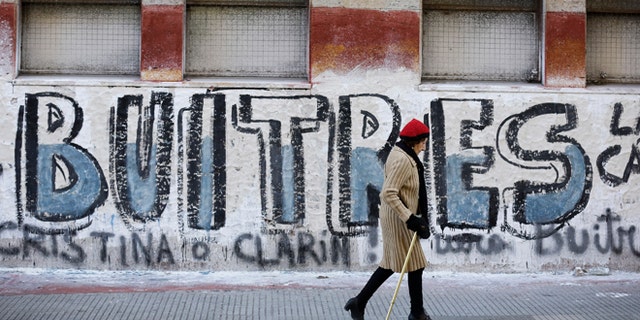 NEWYou can now listen to Fox News articles!
Ending years of disagreement, Argentina and a group of U.S. holdout creditors have finally reached a deal meant to end a spat that has kept the South American country on the margins of international credit markets for 15 years.
Arbiter Daniel A. Pollack issued a statement Monday saying Argentina has agreed "in principle" to pay Elliott Management Corporation and several other funds that sued alongside Elliott, $4.65 billion.
"This is a giant step forward in this long-running litigation, but not the final step," Pollack said, according to the New York Times.
The agreement "is subject to approval by the Congress of Argentina and, specifically, the lifting of the Lock Law and the Sovereign Payment Law, enacted under an earlier administration and which would bar such settlements," a statement obtained by the Wall Street Journal said.
"Thereafter, Argentina contemplates a capital-raise in the global financial markets, which would be used to fund the payments."
Argentina "will pay Elliott Management, Aurelius Capital, Davidson Kempner and Bracebridge Capital "75 percent of their full judgments including principal and interest, plus a payment to settle claims outside the Southern District of New York and certain legal fees and expenses incurred by them over a 15-year period," the statement continued.
The debt spat goes back to Argentina's 2001-2002 financial meltdown, when it defaulted on $100 billion in debt. Most creditors renegotiated the debt in 2005 and 2010, but a group of creditors refused and took Argentina to court in New York and won.
Following the poor relations between bondholders and former Argentinian President Cristina Fernández de Kircher – who called them "vultures" and "financial terrorists" – the country's new president, Mauricio Macri, has moved fast to settle with bondholders on their debts. He recently struck a $1.3 billion settlement with a group of Italian investors.
The Associated Press contributed to this report.
Like us on Facebook
Follow us on Twitter & Instagram