Arab League to create joint military force
Leaders of the 22 countries that make up the Arab League are vowing to defeat Iranian-backed Shiite rebels in Yemen, and other countries, by creating a joint Arab military force that is setting the stage for potential Middle East clashes between U.S.-allied Arab nations and Tehran.
Members of the Arab League met in Sharm El-Sheikh, Egypt, to discuss the growing threat to the region's Arab identity by what they called moves by "foreign" or "outside parties" who have stoked sectarian, ethnic or religious rivalries in Arab states.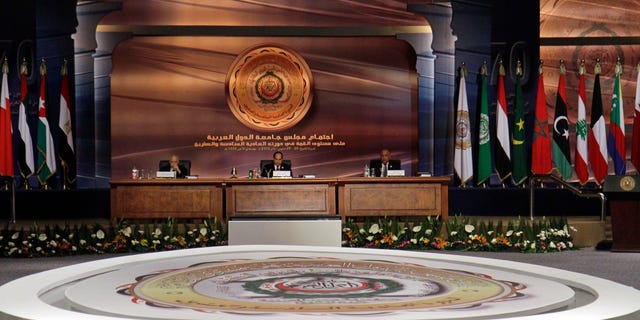 The Arab League is made up of 22 independent Arab states -- including Egypt, Iraq, Jordan, Lebanon, Syria and Saudi Arabia.
Much of the rhetoric was aimed at Iran, which has consolidated its hold in Iraq, Syria, Lebanon and, most recently, Yemen. Arab League chief Nabil al-Arabi blamed Iran for what he said was its intervention "in many nations," while speaking to reporters after the summit.
The weekend meetings resulted in a resolution declaring a newly unveiled joint Arab defense force that would be deployed at the request of any Arab nation facing a national security threat. The force -- comprised of some 40,000 elite troops, war planes, navy ships and weapons -- could also be used to combat terrorist groups like the Islamic State, also known as ISIS.
"The Arab leaders have decided to agree on the principle of a joint Arab military force," Egyptian President Abdel Fattah al-Sisi said Sunday, describing the growing threats to the region as "unprecedented."
The Arab League will work with military representatives of its members to organize the voluntary force, the BBC reported.  Analysts say establishing the force could take months and it's unlikely that all 22 members of the Arab League will join.
Saudi Arabia is already leading a 10-nation coalition to carry out airstrikes against Shia Houthi rebels in Yemen, which pit Sunni Arab nations against Shiite Iran. The strikes are in support of Yemeni President Abdrabbuh Mansour Hadi, who was forced to flee after gains by the Houthi fighters. Saudi Arabia says the Houthis are backed by Iran, but the rebels deny receiving support from Tehran.
Pakistani officials said Monday that Pakistan will send troops to Saudi Arabia to join the coalition against the Yemeni rebels, Reuters reported.
The Saudi-led offensive against the Houthis would "continue until the militia withdraws and surrenders its weapons," Chief al-Arabi said.
"Yemen was on the brink of the abyss, requiring effective Arab and international moves after all means of reaching a peaceful resolution have been exhausted to end the Houthi coup and restore legitimacy," he added.
White House spokesman Josh Earnest told reporters Sunday that the U.S.  is giving logistical and military support to the ongoing operation in Yemen to try to restore stability between Yemen and Saudi Arabia.
"We obviously are interested in coordinating with GCC (Gulf Cooperation Council) countries including militarily. This is something we're considering in light of the security challenges in the region," Earnest said.
The Arab League agreement came as U.S. and other Western diplomats were pushing to meet a Tuesday deadline to reach a deal with Iran that would restrict its nuclear program in exchange for the lifting of economic sanctions.
The Associated Press contributed to this report.