AP Interview: New Zealand foreign minister hopes Security Council seat bears diplomatic fruit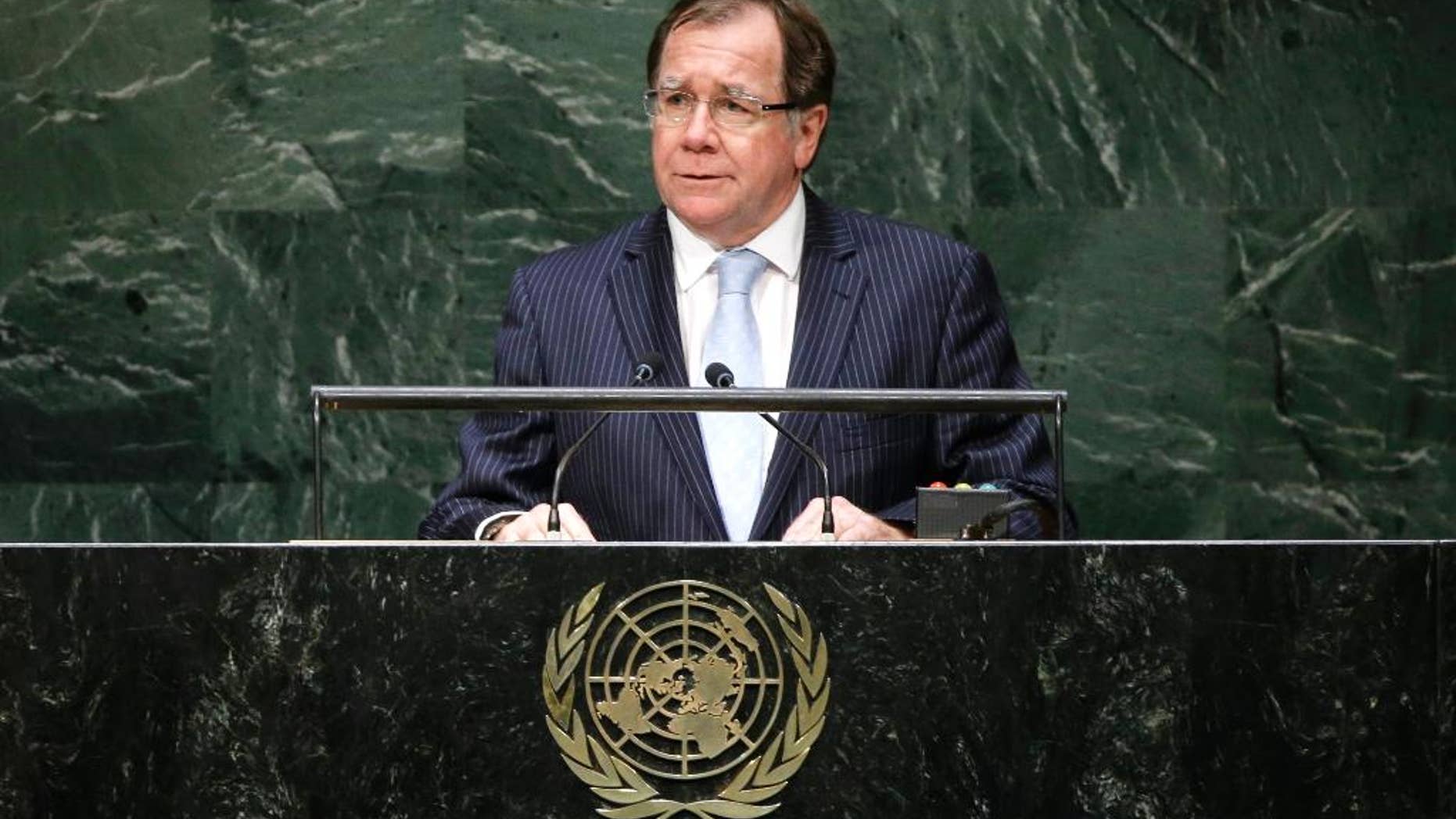 WELLINGTON, New Zealand – New Zealand last month was one of five nations to win elections for coveted seats on the U.N. Security Council. It will serve a two-year term as a non-veto-wielding member beginning in January. Foreign Affairs Minister Murray McCully says it's an opportunity to boost the South Pacific island nation's profile and contribute to solving international problems such as the Israeli-Palestinian conflict and long-divided Cyprus. The Associated Press recently interviewed McCully about what the win means. The interview has been edited for clarity and length.
___
WHAT ISSUES WILL NEW ZEALAND PUSH?
We are still going through an internal process to decide that. But expect us to have something on the agenda representing our focus on small-island developing states. Some of the issues are the state of the oceans and the health of ocean fishery management.
The Middle East peace process has stalled. New Zealand is uniquely, or at least unusually, trusted by both sides in that process, and so we hope to make more progress. It's part of a wider picture of challenges in the Middle East, and progressing that issue would help resolve other problems in the region.
The issue in Cyprus still hasn't been resolved 40 years later, and that's not good enough. We need to do better and we'd like to see more focus on getting that resolved. People think it has fallen off the U.N. agenda but it hasn't.
___
SHOULD THE SECURITY COUNCIL'S STRUCTURE CHANGE?
We think countries that are going to be affected by Security Council decisions should have a right to be heard. There's a continuing gripe among African countries, in particular, that the council makes decisions that vitally affect their interests without talking to them.
We think the five permanent members with veto power should voluntarily honor the spirit of the agreement when the U.N. was formed, which confined the use of the veto power to when a vital national interest was at stake.
We think there should be a new intermediate category of seat on the council, say five seats, set aside for larger countries like India, Japan and Brazil to contest. Those countries could then serve for longer terms and immediately re-contest their seats.
___
ON WINNING A SEAT AT THE EXPENSE OF TURKEY:
On the floor of the assembly, there was hugely positive sentiment for New Zealand. Turkey had only quite recently served on the council. And there are some issues in their neighborhood, and domestically, that are the focus of some debate.
But we decided not to campaign against anyone and to put our own virtues forward. I think they did buy New Zealand's proposition that smaller countries are able to serve.
We don't have a figure on what the campaign cost. There were some extra costs. But we did it out of our existing budget, and we've taken a 6 percent haircut. We have limited means and we didn't buy our way onto the council.
___
WHAT DOES THE WIN MEAN FOR NEW ZEALAND?
On the council, our role is to be part of a trusted group doing more to improve security and stability internationally. Domestically, we have to go through a careful process to understand what the situation in Iraq and Syria means for us at home. We don't think being on the council changes our interests in that respect.
We are looking at more diplomatic capacity in places like West Africa. We don't have an embassy there, and we're looking at options like posting a diplomat to an Australian mission. It's a testing discussion for us — 80 percent of the issues before the council relate to the Middle East and Africa, and we don't have a strong footprint there.
It does mean that for a two-year period, people are going to take your calls a bit more often than normal.