AP Explains: Why China's new aircraft carrier is significant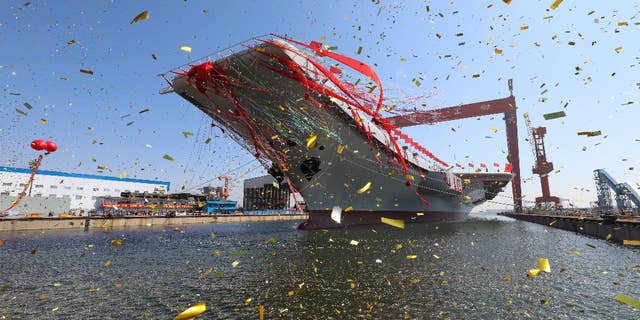 BEIJING – China on Wednesday launched the navy's second aircraft carrier, its first to be entirely homebuilt.
While the 50,000-ton ship still needs considerable work before commissioning, analysts say its launch telegraphs China's ambitions to become the region's most powerful and influential country. That's an alarming prospect to others.
Here's a look at how the new carrier came into being and what impact it is expected to have.
___
CARRIER SHOWS CHINA'S MILITARY PROGRESS
China's carrier program got off the ground with the purchase of the Varyag, an incomplete carrier begun during the 1980s and then inherited by Ukraine after the breakup of the former Soviet Union. Beijing bought the ship in 1998 and towed it to China, where it underwent years of extensive refurbishing before being commissioned as the Liaoning in 2012. It was originally described as being mainly for training and research but last year was declared combat-ready. Development of the new carrier began in 2013 and moved into high-gear in 2015. Based on the same original Soviet design, its construction is believed to have benefited greatly from lessons learned in fitting-out the Liaoning. Both ships suffer some of the limitations inherent in the design, including a ski jump-style launching system that limits the amount of fuel and bombs its Chinese J-15 fighters can carry. Michael Chase of the U.S. think tank RAND Corporation said the carriers reflect the progress China's has made in shipbuilding and other defense industries, and future carriers will be even more sophisticated, particularly in their propulsion and aircraft launch systems.
___
CARRIER AT HEART OF CHINA'S MILITARY AMBITIONS
China had long said it needs aircraft carriers to protect its shoreline and other maritime interests. That's seen as reflecting Beijing's desire to put teeth behind its increasingly assertive claims to territory in the East China and South China seas, while establishing itself as the region's most powerful and influential nation and challenging America's global influence and leadership. Carriers also factor into China's threat to use force to gain control over self-governing Taiwan, from which it separated amid civil war in 1949. Carriers could be deployed to intimidate the island's government and 23 million residents, something it apparently attempted earlier this year when it sailed the Liaoning through the Taiwan Strait. Fueled by a fast-growing defense budget that is now the world's second biggest after the U.S., China's navy has also been acquiring destroyers, nuclear submarines and other ultramodern vessels. Its air force is meanwhile rapidly introducing fourth-generation fighter jets and has produced prototypes of two different kinds of fifth-generation stealth fighters.
___
CARRIER RAISES CONCERNS AMONG NEIGHBORS
Apart from Taiwan, Chinese carriers are seen as a threat primarily by China's historical rivals Japan and India. Beijing and Tokyo have long feuded over a collection of tiny uninhabited islands in the East China Sea and China in recent years increased the presence of its navy and coast guard in the area while repeatedly sending military planes to patrol the nearby airspace. Many Chinese consider the dispute to be a legacy of Japan's brutal invasion and occupation of much of their country during the 1930s and 1940s, memories of which are kept fresh by state propaganda and the education system. India has looked on nervously as the Chinese navy expands its presence in its traditional sphere of influence, the Indian Ocean. That includes the development of ports and airports with potential military uses in Pakistan and elsewhere, along with China's first overseas military base in the Horn of Africa nation of Djibouti. Chinese carriers are seen as less threatening to the region's leading military power, the U.S., although American officials have called for more transparency from Beijing about how it intends to use the ships. Rather than a military threat, the carriers are more of an indirect challenge to U.S. influence in the region.