AP EXPLAINS: What we know about S. Korean political scandal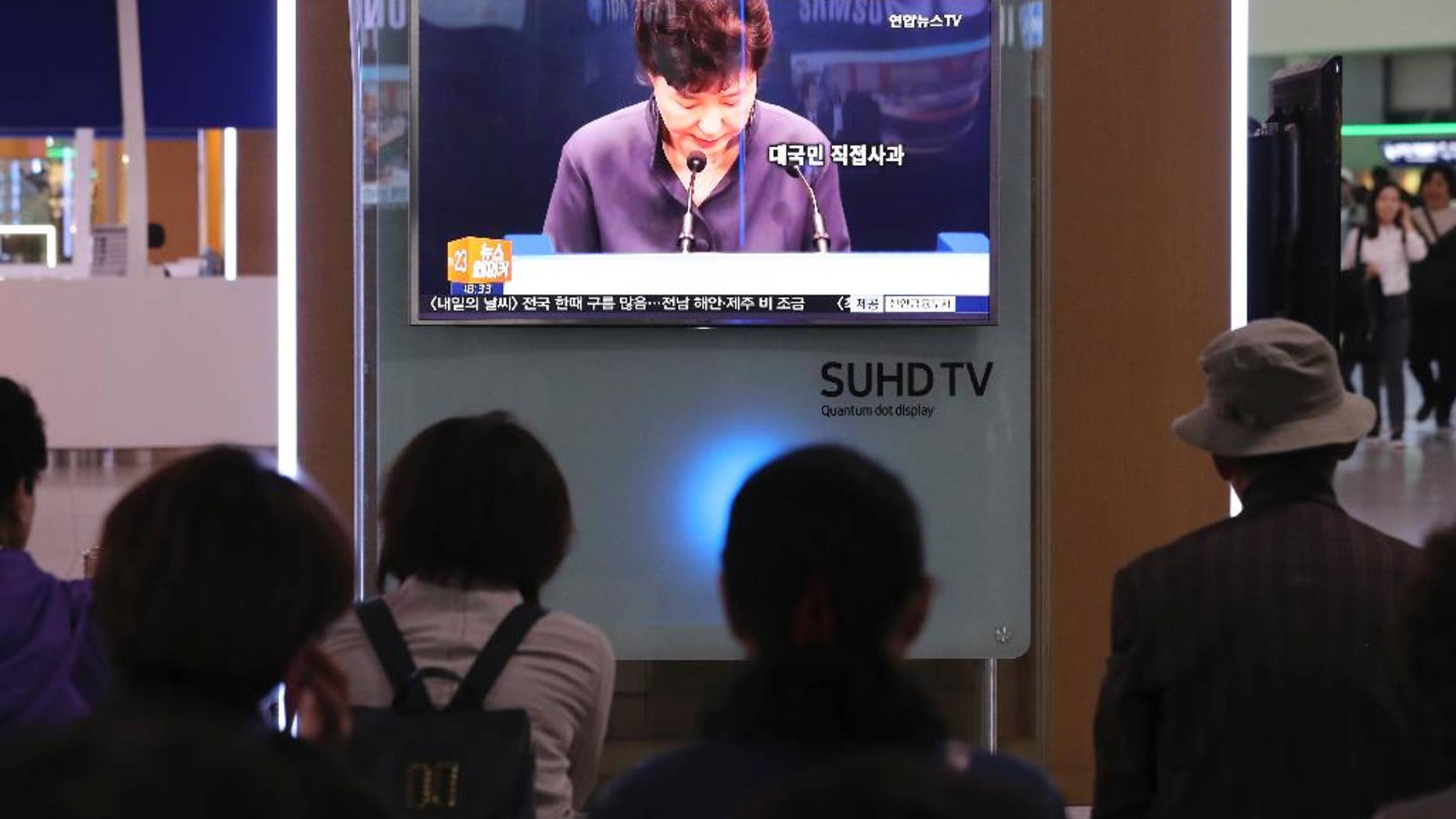 SEOUL, South Korea – To outsiders, the frenzy that has erupted here may not seem to match this week's acknowledgment by South Korean President Park Geun-hye that she got help, including the editing of some of her speeches, from a mysterious woman outside of the government.
But Park's surprise televised address has created one of the biggest challenges of her four years in power — and touched a deep chord in this divided nation.
Media and online commentators speculate that the woman, Choi Soon-sil, might have meddled in other state affairs, even as she used her connections to Park to push companies to make tens of millions of dollars in contributions to establish two nonprofit foundations.
How bad is it for Park? At one point recently, the 10 most popular search words on a major internet portal site were all associated with the scandal, including the word "impeachment."
What we know about a growing political scandal:
___
WHAT PARK HAS SAID
Park acknowledged having close ties to the woman, saying in her address Tuesday that Choi helped her "when I had difficulties" in the past.
Park said Choi gave her personal advice on speeches and public relations issues during the 2012 presidential election campaign and for an unspecified time after Park's 2013 inauguration. Park said she eventually stopped getting such help from Choi, but didn't say when that help stopped.
Park also did not mention the reports about Choi's corruption scandal.
But the president's acknowledgment that she got some help from Choi appeared to give credence to widespread media speculation that Choi, who doesn't have any official government post, might have pulled strings behind the scenes and interfered in key state affairs.
___
WHY THE FRENZY HAS BEEN SO BIG
Park's statement caused an instant uproar in South Korea.
Stories about it were on every major newspaper front page and led TV newscasts. Liberal opposition lawmakers demanded resignations from all of Park's presidential advisers and Cabinet members.
Many South Koreans believe that Park's acknowledgment is simply the tip of a much bigger iceberg, and that Choi was deeply involved in state affairs behind the scenes.
Park's statement failed to soothe public anger. In fact, it triggered more questions about Choi's role in her government.
The acknowledgment also seems to feed into long-running criticism that Park doesn't manage things transparently and has poor communication skills.
Park's perceived faults are often seen by opponents as similar to the heavy-handed style of her late dictator father, former President Park Chung-hee.
Deep political divisions still linger in South Korea from the country's decades of rule by military dictators, which ended only in the late 1980s.
___
WHO THE WOMAN IS
Choi and Park reportedly became friends in the mid-1970s because Choi's late father served as Park's mentor. At the time, Park was serving as acting first lady after her mother was killed in 1974 by a man trying to assassinate her father.
Park's ties with Choi's father, Choi Tae-min, and his family have haunted her political career even after his 1994 death. Many local media reports described the elder Choi as a cult leader who was once a Buddhist monk and allegedly used his relationship with Park to take bribes from government officials and businessmen.
The junior Choi is also the ex-wife of a man who served as Park's chief adviser when she was in the National Assembly before she became president in February 2013. The man, Chung Yoon Hoe, had worked under Choi Tae-min.
A Japanese newspaper reported that Park was with Chung during a ferry sinking in 2014 that killed more than 300 people, mostly teenagers. South Korean prosecutors charged the journalist from the Sankei Shimbun newspaper who wrote the story with defaming Park, but a Seoul court later declared him not guilty.
___
WHAT IT COULD MEAN FOR PARK'S PRESIDENCY
The ongoing scandal will likely hurt Park's ability to govern and could deepen her lame duck status ahead of next year's presidential election. Under South Korea's constitution, Park cannot run for another term.
A lawmaker from the ruling Saenuri Party has asked her to leave the conservative party, and political observers say more lawmakers will likely make the same request to try to distance themselves from the embattled leader ahead of the 2017 election.
Calls for Park to reshuffle top officials and quit the ruling party could loosen her grip on state affairs at a time when South Korea faces assorted security and economic problems, including dealing with North Korea's growing nuclear arsenal, low economic growth and falling exports.
The presidential Blue House said little Wednesday to address the scandal.
But in an editorial, South Korea's biggest newspaper, Chosun Ilbo, advised Park to just focus on the North Korean nuclear issue and appoint a new prime minister to handle economic and other domestic matters during the remainder of her term.
"The country faces a complex set of security and economic challenges, and Park has more than a year left in her five-year term," the editorial said. "A power vacuum would be catastrophic. The president, ruling party and opposition must think hard about what they can do to overcome this crisis."