AP Explains: How ban on dual-citizen lawmakers vexes Aussies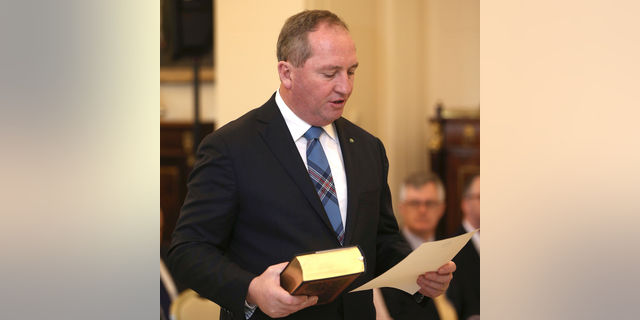 CANBERRA, Australia – Australia's 116-year-old constitutional ban on dual citizens sitting in Parliament is a problem the country didn't know it had until recently, but now it may struggle to fix it.
Seven lawmakers have revealed since July that they might have been citizens of another country when they stood for election last year. They include three ministers in a minor coalition party, The Nationals. The opposition has now dubbed the party "The Multinationals."
Before the current crisis, only two dual-citizen lawmakers had ever been caught out by the prohibition. Critics say the ban no longer suits modern multicultural Australia, where almost half the population was born overseas or has at least one overseas-born parent.
Prime Minister Malcolm Turnbull says he is confident that the High Court won't disqualify any government lawmaker. Two of the three ministers under a cloud remain in the Cabinet.
But constitutional lawyers are less certain and warn that any unpopular government decision could be challenged in the courts if made by a minister who is later disqualified.
So how did the problem arise, what does it mean for Australian politics and how can it be fixed?
___
A LAW LONG IGNORED
The problem of lawmakers with foreign allegiances has long been almost invisible because for a long time Australians rarely looked for it.
A founding father, King O'Malley, is widely regarded as an American who lied about being Canadian to escape the ban and was never challenged. Canadians in those days were British subjects like Australians and therefore not considered foreigners.
Sydney lawmaker Gordon Anderson was challenged in 1950 on the grounds that as a Catholic he had an allegiance to the Vatican. The High Court dismissed that challenge because the constitution also ruled that there could be no religious test for a government office.
But the problem came into sharp focus after the election in July last year when lawyer John Cameron started investigating whether two New Zealand-born senators were dual nationals. One of them, Scott Ludlam, revealed on July 14 he was still a Kiwi and had been unlawfully elected for the minor Greens party three times since 2007.
___
LATER CHANGES TIGHTENED BAN
While the words of the constitution's ban on dual citizens have never changed, their meaning over the years has.
Section 44(i) disqualifies from Parliament anyone who is "under any acknowledgment of allegiance, obedience, or adherence to a foreign power, or is a subject or a citizen or entitled to the rights or privileges of a subject or a citizen of a foreign power."
In 1901 when the constitution came into effect, Australians were British subjects. Australian citizenship was created by Australian law in 1949 and the old colonial master, Britain, officially became a "foreign power" in 1986.
The seven lawmakers under a cloud have been dual citizens of Britain, New Zealand, Canada and Italy. When the constitution was drafted, all but the Italian would have been British subjects welcome to stand for Parliament.
___
ONE PIVOTAL SEAT AT STAKE
Six senators and one House member — Deputy Prime Minister Barnaby Joyce — are under court scrutiny, and it is Joyce's fate that is intertwined with that of Turnbull's government. Parties need a majority in the House of Representatives to govern, and the ruling coalition holds that majority by a single seat.
If disqualified, Joyce would stand for re-election, having renounced the New Zealand citizenship he inherited from his father within days of becoming aware of it. But with opinion polls showing the government is unpopular, voters could use a by-election to throw both Joyce and his government out of office.
_____
A SOLUTION WITH ITS OWN PROBLEM
A parliamentary committee recommended 20 years ago that the constitution drop the dual national ban so that candidates would need only Australian citizenship to qualify. But no government ever followed through with a referendum. Australians are notoriously reluctant to change their constitution and many voters might agree with its stated purpose to "protect the parliament system" against lawmakers with conflicted loyalties. Of the 44 referendums Australia has held since 1901, only 8 have been carried and none since 1977.