Anti-US Cleric Muqtada al-Sadr Returns to Iraq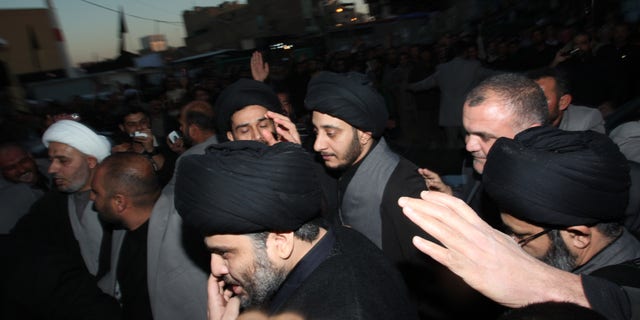 BAGHDAD – Iraqi officials say anti-U.S. cleric Muqtada al-Sadr has returned to Iraq after a nearly three-year absence.
Mohammed al-Kaabi, a Sadrist official in Baghdad, said al-Sadr was in the city of Najaf at his family home.
An official with Prime Minister Nour al-Maliki's office confirmed a plane carrying al-Sadr flew into the southern city earlier Wednesday afternoon. He did not want to be identified because of the sensitivity of the situation.
It was not immediately clear how long al-Sadr would stay in Iraq.
Al-Sadr has not been seen in Iraq since 2007. He left the country and has been living in Iran. His forces have presented some of the main opposition to the U.S. since the 2003 invasion.
THIS IS A BREAKING NEWS UPDATE. Check back soon for further information. AP's earlier story is below.
Iran's new foreign minister is pushing to cement ties with neighboring Iraq Wednesday at a time when American troops are preparing to go home and Tehran's influence is on the rise.
Officials from around the Middle East have been streaming into Iraq since the new Shiite-led government was sworn in last month, nine months after an inconclusive election that led to prolonged political wrangling. Iranian Foreign Minister Ali Akbar Salehi's visit came a few days after Jordan and Egypt sent senior delegations.
Iraq's mainly Sunni neighbors are racing to try to regain their influence in Iraq, partly to counter Iran's rising power. Iraq and Iran were long bitter rivals, especially under Saddam Hussein's Sunni-dominated regime, and fought a brutal eight year war in the 1980s, which killed hundreds of thousands on both sides.
Relations improved dramatically with the overthrow of Saddam's regime and the installation of a Shiite-dominated government. Iran is one of Iraq's largest trading partners, and millions of Iranian Shiite pilgrims travel to Iraq yearly.
At a joint press conference with his Iraqi counterpart, Salehi said his country was looking forward to boosting relations in all fields with the new Iraqi government.
Iraqi Foreign Minister Hoshyar Zebari said the two sides discussed "in detail" an Iranian opposition group that Iran wants expelled from Iraq. His comments suggested Iraq may finally be ready to tackle an issue that has long angered Iran.
"Our constitution doesn't allow any armed group on our land that launches attacks and assaults against neighboring countries," Zebari said. "We are determined to deal with this issue and there were some good suggestions to put an end to it," he added, without elaborating.
The group — known as the Mujahedeen-e-Khalq — fought alongside Saddam during his 1980s war with Iran and once launched hit-and-run attacks inside Iran. Many of the group's supporters live in a camp north of Baghdad that used to be protected by American troops but is now encircled by Iraqi forces.
The improvement in ties with Iran has come at the same time that relations have soured with Iraq's mostly Sunni Arab neighbors.
Most Arab governments sent diplomats here following Saddam's fall in 2003 but did not cultivate high-level relations to avoid the appearance of endorsing the U.S. military occupation of an Arab country.
But as of early 2006, many softened their stance under strong U.S. pressure, reopened their embassies and started to bolster trade and political relations.
About 50,000 American troops remain in Iraq and are mainly focused on assisting and training Iraqi security forces before their scheduled pullout from the country by the end of this year.
In other news, police said a roadside bomb hit a bus Wednesday carrying Iranian pilgrims to the city of Samarra, 60 miles (95 kilometers) north of Baghdad, wounding four people. The police spoke on condition of anonymity because they were not authorized to speak to the media.
Sunni militants intent on toppling Iraq's Shiite-led government have often targeted Iranian pilgrims visiting Iraqi religious shrines.