Anti-Qaddafi Forces Say They Are Close to Talks Related to the Libyan Leader's Departure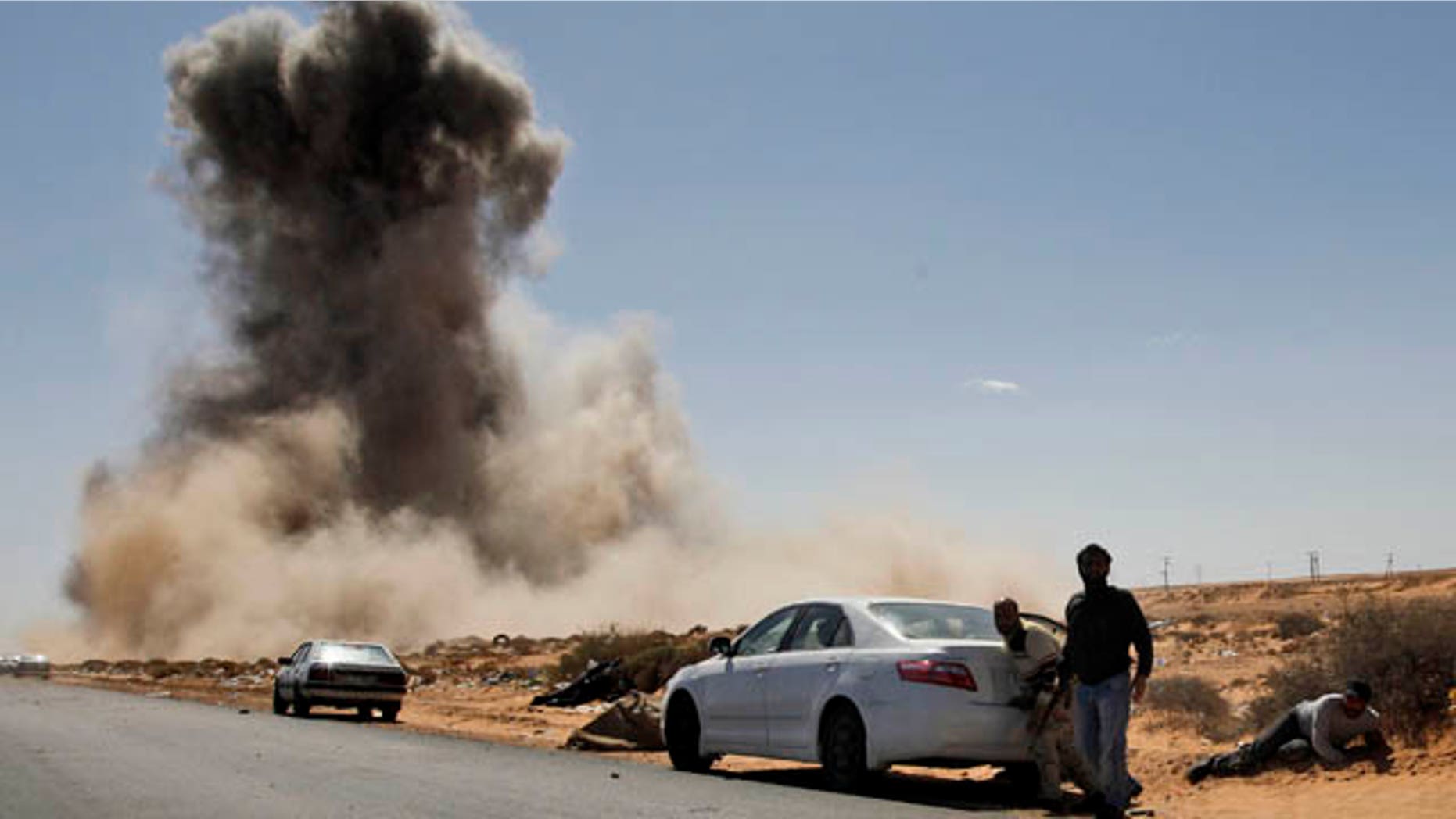 Representatives of forces opposing Muammar al-Qaddafi say they have received an offer to negotiate terms of the Libyan leader's departure, but reports indicate that no envoy was sent to discuss that possibility with rebel forces.
In Benghazi, a spokesman for the newly created Interim Governing Council said a man who claimed to represent Qaddafi has made contact with the council to discuss terms for Qaddafi to step down. Mustafa Gheriani told The Associated Press the council could not be certain whether the man was acting on his own initiative or did, in fact, represent the Libyan leader.
"But our position is clear: No negotiations with the Qaddafi regime," said Gheriani, who declined to say when contact was made or reveal the identity of the purported envoy.
Libyan state television denied that Qaddafi had sent an envoy to negotiate with the rebels.
Still, Western military intervention does not seem imminent — and the warnings may be an attempt to intimidate Qaddafi with words before deeds.
At least 20 people were injured Tuesday -- some of them seriously -- as rocket barrages and airstrikes by pro-Qaddafi forces continued in Ras Lanouf in an attempt to check the advance of the opposition-held area east of Libya toward the capital Tripoli.
Government forces have apparently gained an upper hand in its counteroffensive against the rebels in the past few days, but it remains unclear whether Qaddafi is seriously considering stepping down from power after 41 years or if he is simply buying more time.
The U.S., meanwhile, has said it has not ruled out using some form of military force against Qaddafi and his allies. A no-fly zone is currently being considered over the North African nation to stop additional air attacks on rebel forces.
British and French officials said the no-fly resolution was being drawn up as a contingency and it has not been decided whether to put it before the U.N. Security Council, where Russia holds veto power and has rejected such a move.
Western officials have said a no-fly zone does not require a U.N. mandate, but they would prefer to have one.
Earlier Tuesday, warplanes launched at least five new airstrikes near rebel position in Ras Lanouf, one hitting a two-story house in a residential area, causing some damage. None of the strikes appeared to cause casualties, suggesting they were intended to intimidate the fighters, according to an Associated Press reporter who witnessed the attacks. The anti-regime forces were not taking any chances and were spreading out deep inside the desert around the area in small groups.
After Europe kick-started international efforts to do so, the United States and its NATO allies edged closer Monday to formulating a military response to the escalating violence in Libya as the alliance boosted surveillance flights over the country and the Obama administration signaled it might be willing to help arm Qaddafi's opponents. It still appears unlikely, however, that U.S. warplanes or missiles will soon be deployed in Libya, which has been sliding toward civil war.
Elsewhere, in Zawiyah, 30 miles west of Tripoli, government forces and rebels who had been in control of the city fought for weeks, with the power tipping back and forth between the two sides.
After the government brought overwhelming firepower in a counteroffensive that lasted all weekend, the city fell to Qaddafi's forces by Monday night.
The government heavily shelled the city with tank artillery and mortars, according to a witness who spoke to The Associated Press by phone. He said Qaddafi's tanks and fighting vehicles were roaming the city and firing randomly at homes. The witness spoke on condition of anonymity because he feared reprisals.
The Associated Press contributed to this report.