Anti-bailout party leads Greek coalition talks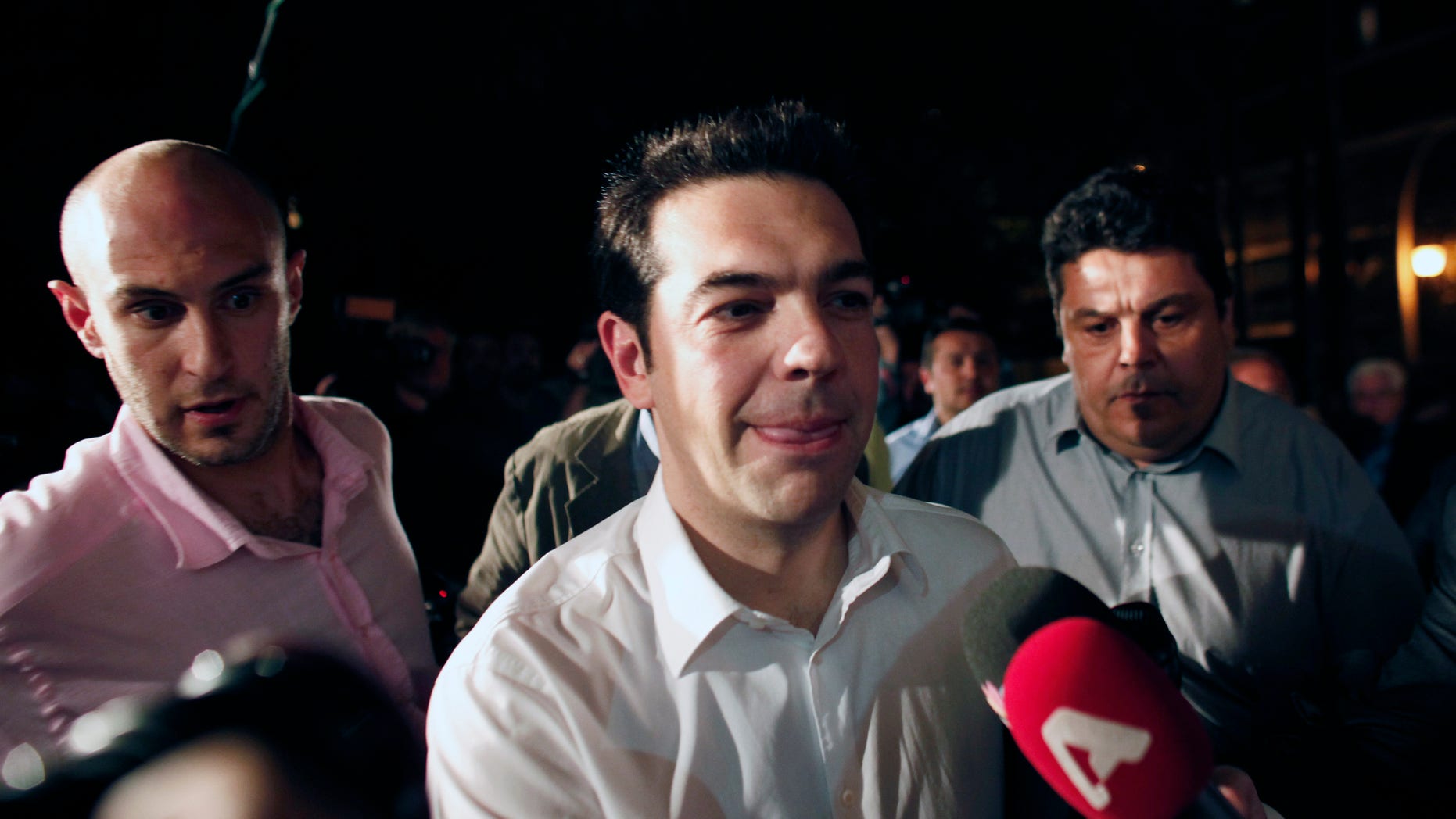 ATHENS, Greece – The head of a left-wing party opposed to the terms of Greece's bailout got the mandate Tuesday to try to form a new government after an election produced a stalemate in parliament.
Alexis Tsipras, the 38-year-old head of the Radical Left Coalition, or Syriza, began coalition talks a day after conservative party leader Antonis Samaras failed to form a government.
Voters furious over years of painful budget cuts and higher taxes hammered Samaras' conservative New Democracy and socialist PASOK in Sunday's ballot. The two parties have dominated politics for the last four decades and had backed Greece's multibillion-dollar bailouts.
No party won enough votes to form a government, leaving a coalition or new elections as the only options.
Tsipras' party came a surprise second on Sunday after campaigning hard to scrap the international bailout agreements that have kept Greece afloat but also brought in harsh austerity measures. Greece is now in its fifth year of recession and unemployment has spiked to over 20 percent.
"This is a historic moment for the Left and the popular movement and a great responsibility for me," Tsipras said after meeting with Greek President Karolos Papoulias.
New Democracy won the election with just 18.85 percent of the vote, as the angry electorate scattered support to several smaller party -- ranging from moderate leftists to an extreme right party blamed for street attacks against immigrants.
The result of Sunday's parliamentary election raised troubling new questions about Greece's ability to stay solvent and in the euro currency bloc. Failure to reach a deal this week would trigger another general election in June, raising fears that Greece's painful deficit-cutting program -- along with Europe's troubled efforts to resolve its debt crisis -- could be thrown off track.
Shares were hammered by nearly 7 percent on the Athens Stock Exchange on Monday, and were down a further 1.3 percent by midday trading Tuesday."With the state the economy is in, (he) does not have the luxury of losing any time," Dimitris Mardas, an associate professor of economics at Thessaloniki University, told The Associated Press.
Mardas said he believed there was room to negotiate a coalition government.
"If a combination of parties gather more than 50 percent of the seats in parliament, they can govern -- period. What anyone else says doesn't matter. They are professionals, not children," he said.
The government, however, managed to raise euro1.3 billion ($1.69 billion) in a debt auction Tuesday but its short-term borrowing costs continued to creep up. It sold six-month treasury bills at an interest rate of 4.69 percent, compared with a 4.55 percent rate last month.