Antarctica: All 52 Passengers On Stranded Ship, Three South Americans, Rescued And Safe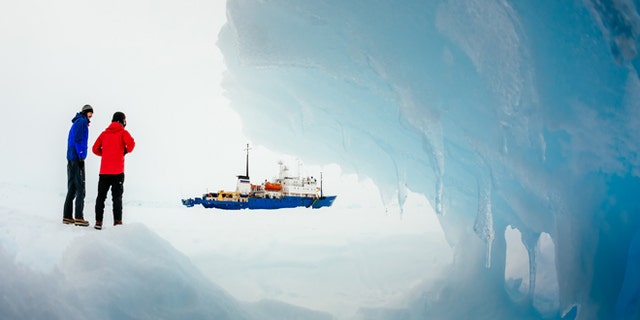 CANBERRA, Australia (AP) – A helicopter rescued all 52 passengers from a research ship trapped in Antarctic ice since Christmas Eve, after weather conditions finally cleared enough for the operation Thursday.
One Argentinean and two Chileans are part of the scientific team, which had been recreating Australian explorer Douglas Mawson's 1911 to 1913 voyage to Antarctica.
A Chinese helicopter carried the scientists and tourists from the Russian ship MV Akademik Shokalskiy in groups of 12 to an Australian icebreaker, said the Australian Maritime Safety Authority's Rescue Coordination Centre, which oversaw the rescue. The Aurora Australis will now take the passengers to the Australian island state of Tasmania, a journey expected to last two weeks.
"I think everyone is relieved and excited to be going on to the Australian icebreaker and then home," expedition leader Chris Turney told The Associated Press by satellite phone from the Antarctic.
All 22 crew members stayed with the icebound vessel, which is not in danger of sinking and has weeks' worth of supplies on board. They will wait until the ice that surrounds the ship breaks up.
The eagerly anticipated rescue came after days of failed attempts to reach the vessel. Blinding snow, strong winds, fog and thick sea ice forced rescuers to turn back time and again.
Three icebreakers were dispatched to try and crack their way through the ice surrounding the ship, but all failed. The Aurora came within 12 miles of the ship Monday, but fierce winds and snow forced it to retreat to open water.
On Thursday, it appeared the weather had thwarted yet another rescue attempt. The helicopter was originally going to airlift the passengers to the Chinese icebreaker on which the copter is based, with a barge then ferrying the passengers to the Aurora. But sea ice prevented the barge from reaching the Snow Dragon icebreaker, and the maritime authority said the operation would have to be delayed.
A last-minute change in plans allowed the rescue to go ahead. The passengers were instead flown to an ice floe next to the Aurora and then taken by a small boat to the Australian ship, Turney said.
The Akademik Shokalskiy, which left New Zealand on Nov. 28, got stuck after a blizzard pushed the sea ice around the ship, freezing it in place about 1,700 miles south of Hobart, Tasmania.
Turney had hoped to continue the trip if an icebreaker managed to free the ship. Despite his disappointment over the expedition being cut short, he said his spirits remained high.
"I'm a bit sad it's ended this way," he said. "But we got lots and lots of great science done."
Based on reporting by The Associated Press.
Follow us on twitter.com/foxnewslatino
Like us at facebook.com/foxnewslatino