Another victim of attacks on anti-polio teams dies in Pakistan, bringing 3-day toll to 9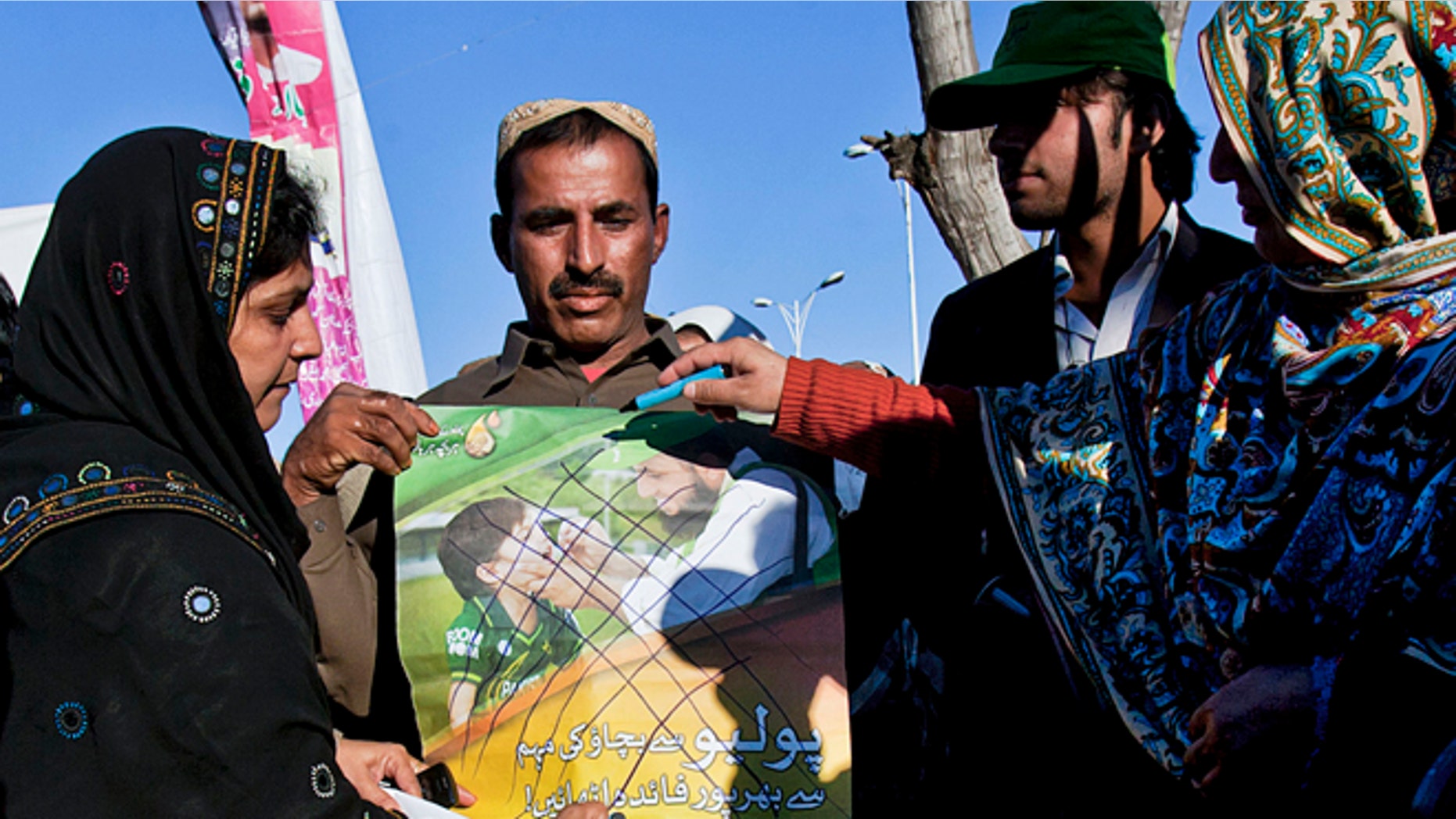 PESHAWAR, Pakistan – Another victim from attacks on U.N.-backed anti-polio teams in Pakistan died on Thursday, bringing the three-day death toll in the wave of assaults on volunteers vaccinating children across the country to nine, officials said.
Hilal Khan, 20, died a day after he was shot in the head in the northwestern city of Peshawar, said health official Janbaz Afridi
Since Monday, gunmen had launched attacks across Pakistan on teams vaccinating children against polio. Six women were among the nine anti-polio workers killed in the campaign, jointly conducted with the Pakistani government.
The U.N. World Health Organization suspended the drive until a government investigation was completed.
U.N. Secretary-General Ban Ki-moon called the killings "cruel, senseless and inexcusable." Speaking at his year-end news conference Wednesday, Ban said the victims were among thousands across Pakistan "working selflessly to achieve the historic goal of polio eradication."
The suspension of the vaccinations was a grave blow to efforts to bring an end to the scourge of polio in Pakistan, one of only three countries where the crippling disease is endemic.
Azmat Abbas, with UNICEF in Pakistan said the field staff would resume the work when they have a secure working environment.
"This is undoubtedly a tragic setback, but the campaign to eradicate polio will and must continue," Sarah Crowe, spokeswoman for UNICEF, said Wednesday.
However, local officials in the eastern city of Lahore continued the vaccination on Thursday under police escort, and extended the campaign with a two-day follow-up.
Deputy Commissioner Noorul Amin Mengal said about 6,000 Pakistani government health workers were escorted by 3,000 police as they fanned out across the city.
"It would have been an easy thing for us to do to stop the campaign," he said. "That would have been devastating."
No one has claimed responsibility for the attacks but some Islamic militants accuse health workers of acting as spies for the United States and claim that the vaccine makes children sterile.
Taliban commanders in the country's troubled northwest tribal region have also said the vaccinations can't go forward until the U.S. stops drone strikes in Pakistan.
The insurgent opposition to the campaign grew last year, after it was revealed that a Pakistani doctor ran a fake vaccination program to help the CIA track down and kill Al Qaeda founder Usama bin Laden, who was hiding in the town of Abbottabad in the country's northwest.
Prevention efforts against polio have managed to reduce the number of cases in Pakistan by around 70 percent this year, compared to 2011, but the recent violence threatens to reverse that progress.