Ancient Nazca Lines damaged after truck plows into archaeological site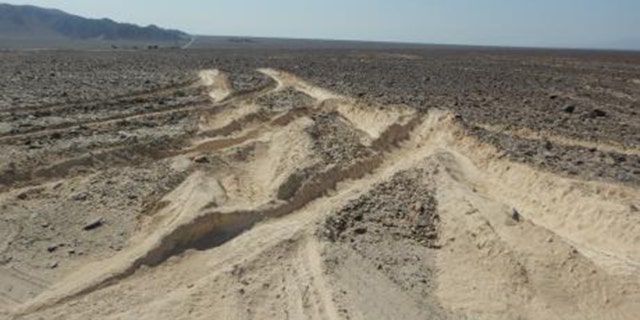 The ancient Nazca Lines, an archaeologically sensitive and sacred site in Peru, was damaged when a truck driver ignored the warning signs and plowed his cargo truck into it, officials said.
The Peruvian Ministry of Culture said Tuesday that the truck driver "left deep prints in an area approximately 100 meters long," and damaged parts of "three straight lined geoglyphs."
The Nazca Lines, considered a UNESCO World Heritage site, has enormous drawings of animals and plants that were etched in the desert ground some 2,000 years ago by a pre-Inca civilization.
MYSTERIOUS NAZCA LINE GEOGLYPHS FORMED ANCIENT PILGRIMAGE ROUTE
The drawings are best viewed from the sky and entering the area is strictly prohibited due to the fragility of the soil around the lines.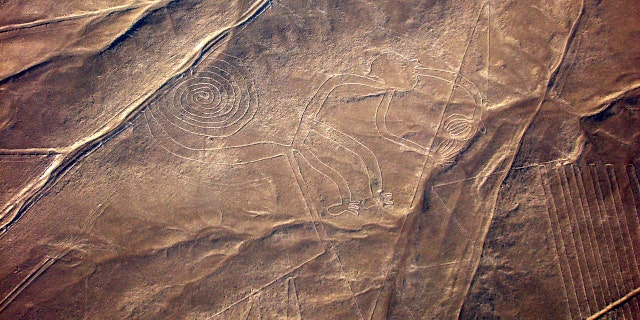 According to the National Geographic, the lines are in a region just over 200 miles southeast of Lima, near the modern town of Nasca. In total, there are over 800 straight lines, 300 geometric figures and 70 animals and plant designs.
Some of the straight lines run up to 30 miles, while the animal and plant designs range from 50 to 1,200 feet – as large as New York City's Empire State Building.
It is believed that the majority of the lines were made by the Nasca people, who lived around A.D. 1 to 700.
Officials said the truck driver, identified as Janier Jesus Flores Vigo, was arrested and he's expected to face charges.
PERU INVESTIGATING GREENPEACE ACTIVIST'S ROLE IN PR STUNT ALLEGED TO HAVE DAMAGED NAZCA LINES
This is not the first time the Nazca lines have been damaged in recent years.
In September 2015, a man was detained after he entered the site and wrote his name on one of the geoglyphs.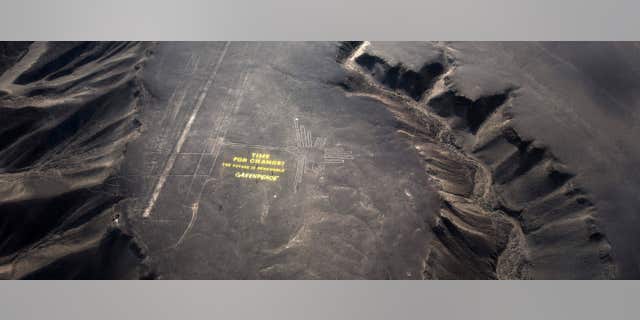 In December 2014, Greenpeace activists set up large letters beside one of the designs that read: "Time for Change! The future is renewable."