American woman held in China for six months on spying suspicion, husband says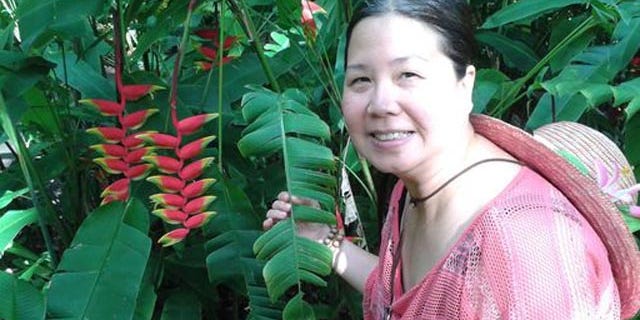 A Texas man said early Tuesday that his wife, a Vietnam-born U.S. citizen, had been arrested by China after she had been detained for six months on suspicion of spying for Washington.
Jeff Gillis told The New York Times that he heard that his wife, Phan, had been arrested Sunday, just two days before Chinese President Xi Jinping of China was due to arrive for a state visit. Gillis said that he hoped President Obama would use the occasion to press Xi for his wife's release.
"I really don't want to be disruptive. I don't want to ruin anybody's party," Gillis told the Times. "I just want to get my wife back."
Phan Phan-Gillis, 55, who goes by the name Sandy, had been held in secret detention for months in the city of Nanning, in southern China, family lawyer Simon Tang told the paper. She was born in Vietnam, but is of ethnic Chinese origin.
The Houston Chronicle reported that Phan-Gillis was accompanying a group of city officials on a routine trip to promote increased trade. On March 19, the paper reported, she was stopped at a border crossing between the coastal Chinese city of Zuhai and Macau.
"Sandy was nowhere to be found," Houston mayor pro tempore Ed Gonzalez told the paper. "But it was daytime, it was busy, and there was nothing out of the ordinary, so we thought maybe she had gone to the restroom."
Gonzalez added that Phan-Gillis called his chief of staff, Houston businessman Vincent Chau, after she was detained and told him she was "taking care of a personal matter." Two days later, when the group was due to fly back to Houston, Phan-Gillis sent Chau a text message saying she was handling a personal matter and would see them back in Houston.
Jeff Gillis told the Chronicle that his wife owned a communications firm that does consulting for U.S. and Chinese businesses. He said it was not unusual for his wife to extend her business trips at the last minute, but he grew concerned when she had not returned to the U.S. by March 31.
Gillis told the Chronicle that when he contacted the U.S. Consulate in China, he was told that officials had been notified that Sandy Phan-Gillis had been accused of spying and stealing state secrets. He has retained two lawyers, one in the U.S. and one in China. Gillis says his wife receives monthly consular visits, but is not allowed to speak to anyone else.
"I still don't understand what is going on," Gillis told the Chronicle. "She has done so much for U.S. China relations, it astounds me to think that China would act this way to a really good friend."
Public records show that in addition to her consulting job, Sandy Phan-Gillis is president of the Houston Shenzhen Sister City Association, which works to promotes business ties between the two cities. In that role, she has helped arrange visits business, cultural and sports delegations from both cities.
China has a broad definition of what constitutes a state secret and U.S. nationals often run afoul of the law. In April, American geologist Xue Feng was released from prison and deported to America after being held for seven years.
Click for more from the Houston Chronicle.