American tourists stabbed in Amsterdam were targeted by Afghan man with a 'terrorist motive': officials
Two Americans who were stabbed Friday night at a train station in Amsterdam were targeted by an Afghan citizen who had a "terrorist motive," officials say.
City authorities said the 19-year-old suspect, identified only as Jawed S., appeared to target the American tourists in a stabbing attack at Central Station just after noon on Friday.
"Based on the suspect's first statements, he had a terrorist motive," the city administration said in a statement on Saturday. They did not elaborate on what the statements were or in what ways they might have shown intent.
Still, Netherlands Prime Minister Mark Rutte doubled down on these claims after taking to Twitter to confirm that investigation was zeroing in the role played by extremist ideology.
Initial reports indicated that it did not appear to be a targeted attack, and that the victims did not appear to be chosen for a clear reason.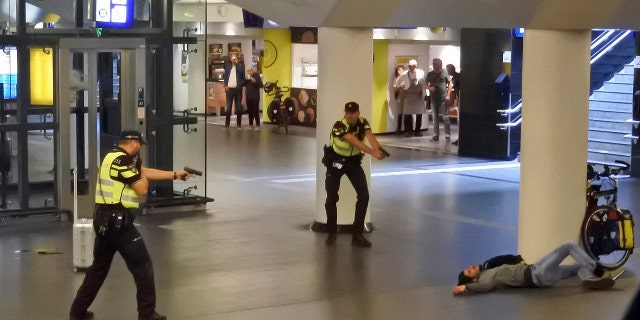 The victims were identified only as American citizens by the U.S. ambassador to the Netherlands; police said they were recovering in a hospital with injuries that were considered serious but not life-threatening.
The suspect, who had a residency permit from Germany, was stopped by Dutch police officers when he was shot and wounded. He is scheduled to be arraigned during a closed-door hearing with an investigating judge on Monday. Officials have not disclosed the charges he could face.
The Associated Press contributed to this report.