American hospitality: First U.S.-managed hotel in 57 years opens in Cuba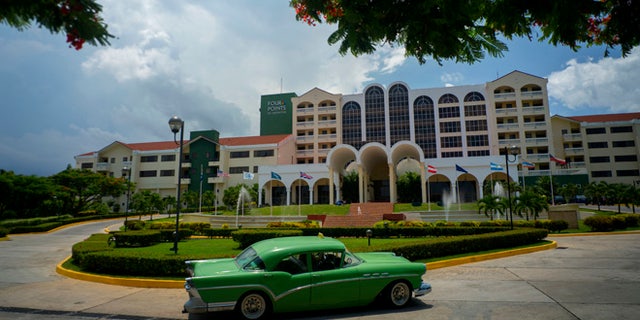 Travelers to Cuba will now have the choice of getting American hospitality in Havana's upscale Miramar neighborhood.
The 186-room hotel Four Points by Sheraton, managed by resort giant Starwood, is the first U.S. hotel in Cuba in more than 50 years.
Rooms go for from $190 to $600 a night, according to the website.
It officially opened for business on Tuesday.
The Obama administration permitted the deal with a special Treasury Department license and Starwood announced it on the eve of President Obama's March visit to Cuba. The stated intention of Obama's normalization of relations with Cuba is creating more freedom for ordinary Cubans to operate independently of their single-party government, which maintains control of the most aspects of the centrally planned economy.
Allowing a high-profile U.S. corporation to work hand-in-hand with the Cuban military shows both the Obama and Castro governments' eagerness to build as many economic ties as possible before the president leaves office, said Robert Muse, a Washington-based expert on U.S. law on Cuba.
"It certainly goes further and faster than anyone contemplated," Muse said. "The Cuban government proved that it can quickly and decisively deal with the U.S. hospitality sector. No reason they can't do it again and again and again."
State Department spokesman Mark Toner said Starwood's presence would benefit U.S.-Cuban normalization by providing U.S. visitors with a safe, well-managed place to stay. He also said that by contributing to Cuba's tourism sector it would increase people-to-people exchanges between Americans and Cubans.
Toner said the U.S. expected a "steady increase" in similar U.S. business, which helps develop professional know-how on the island.
The hotel is being gradually refurbished and equipped with new beds, linens and other amenities. The 180-member Cuban staff has been re-trained by a team of 15-20 Starwood managers from other countries over the last few weeks and will be permanently supervised by about five Starwood managers under the terms of the contract.
Starwood officials said they were investing millions in the rehabilitation of the hotel. They declined to provide a more specific figure.
Visitors to Cuba frequently and bitterly complain about the poor quality of the infrastructure and service in government-run hotels, and online reviews of the pre-Starwood Quinta Avenida offered a sampling of the challenges the company faces.
Though interspersed with some praise, comments ranged from "hallways with dirty carpets full of dust and a wet smell" to "crickets and cockroaches in some parts of the hotels show that they weren't cleaning much."
A Gaviota representative declined to comment Tuesday but Pablo Casal, the hotel's general manager, said he was pleased with the quality of the hotel staff.
"What we're finding is a willingness to understand what we expect and apply it," he said. "We're working very hard, above all, to provide the service that our guests expect."
In the midst of a boom in tourism to Cuba, the hotel is running at about 80 percent occupancy. Casal said he hoped to complete the renovation by the end of the year. In the meantime, reservations will come with a disclaimer that the hotel is undergoing rehabilitation.
Based on reporting by the Associated Press.