American Hikers Jailed in Iran Allowed to Call Home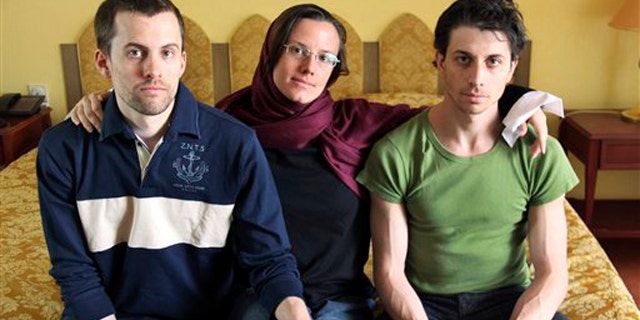 MINNEAPOLIS -- Two American hikers held captive in Iran have called home for only the third time since their arrest nearly two years ago.
Shane Bauer and Josh Fattal, both 28, told their families they had staged a 17-day hunger strike after they were stopped from receiving letters, the hikers' families said in a news release.
Bauer's mother, Cindy Hickey of Minnesota and Fattal's mother, Laura Fattal of Pennsylvania, began what they called a "rolling" hunger strike last Thursday out of concern their sons also were fasting. Hickey said her son's phone call was about four minutes and that he sounded "OK."
"I was very glad to hear his voice," Hickey said Sunday.
Fattal, Bauer and Bauer's fiancee, Sarah Shourd, were arrested along the Iraq-Iran border in July 2009 and held on espionage charges, which they deny. Shourd was allowed to return to the U.S. last year on bail. Iranian officials ordered her back to Tehran for the trial, and she has refused to do so.
The trial had been scheduled to resume on May 11, but the men weren't brought to court and no explanation was given to the families or their lawyer in Tehran. Hickey said her son "has no idea why he wasn't brought to court or what was going to happen next."
"I just told him we're working hard," Hickey said.
Hickey said Bauer also left a message for Shroud, his fiancee. The two became engaged after their arrest. Fattal spoke to his father, Jacob, according to the news release.
The phone calls were the first the families had received from Bauer and Fattal since Nov. 27, 2010.
Hickey told The Associated Press that she and Laura Fattal have stopped fasting and that Shourd joined the hunger strike on Saturday and that Fattal's older brother, Alex Fattal, joined it on Sunday.