American farmers fear they'll pay the price of Trump's trade war
American farmers are bracing for the worst as President Trump's trade war escalates into a new, potentially disruptive phase.
Across the country, farmers are about to begin harvesting wheat. Almost 60 million tons are annually produced in the U.S. and about half of that is exported. However, it's unclear where this year's crop will ultimately be sold.
Trump was elected, in part, on campaign promises to rein in what he has characterized as a global trade system rigged against America. The Trump administration recently decided to end the exemption for Canada, Mexico and the European Union on aluminum and steel tariffs, of 10 percent and 25 percent.
"All we are trying to do here with the 232 tariffs is to provide our domestic industries an opportunity to earn a decent rate of return and invest in this country," White House National Trade Council Director Peter Navarro said on Fox Business' "After the Bell."
However, several U.S. allies quickly promised to retaliate — and the American agriculture industry may bear the brunt of that pain.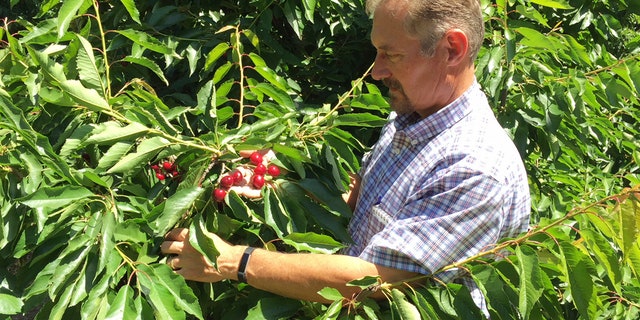 Ben Steffen, a dairy farmer who also grows corn, soybeans and wheat on 1,900 acres in southeastern Nebraska, is angry about the U.S. tariffs being imposed on America's closest trade partners and allies.
"I'm upset because it hits me in my pocketbook from multiple angles," he told Yahoo! Finance. "I sell beef, I sell corn, I sell soybeans and I sell milk. All of those products are vulnerable because we export significant amounts in those markets."
Farmers are often the first to feel the hit in trade disputes that may not involve their own products, David Salmonsen, senior director for congressional relations at the American Farm Bureau Federation, told the Guardian.
According to the British publication, U.S. agricultural exports are worth about $140 billion a year, with Canada and Mexico importing about $39 billion, China's taking $20 billion and the EU about $12 billion. All have threatened retaliation over metal tariffs.
TARIFFS COULD PUSH EUROPE TOWARD RUSSIA, CRITICS SAY
Trump is expected to publish on June 15 a list of $50 billion worth of Chinese technology products to be hit with a 25 percent tariff. The communist country is expected to hit back with a list of its own and U.S. farmers expect they will be at the top of that list.
The tariffs arrive as the U.S. is still trying to fashion a revised North American Free Trade Agreement deal with Canada and Mexico, as well as settle separate trade issues with the EU and China.
"They're going to hit the farmers," Bryan Klabunde, a farmer in northwestern Minnesota, told Yahoo! Finance. "We want things fair for all industries, but we're going to take the brunt of the punishment if other countries retaliate.'"
Although a number of prominent Republicans, including House Speaker Paul Ryan, as well as some right-leaning economists, have called for Trump to cool down his rhetoric, it appears the trade war will proceed in the coming weeks and months.
NEW US TARIFFS WOULD MAKE TRADE DEALS VOID, CHINA SAYS
"It is just increasing tensions," Jacqueline Varas, the director of immigration and trade policy at the conservative American Action Forum, told the Guardian.
The continuing uncertainty and potential for loss is weighing on the minds of U.S. farmers.
"This is the worst possible thing to have for our milk market, and it's the same for every other commodity," Steffen said. "These are important relationships."