American boss held hostage by Chinese workers says agreement reached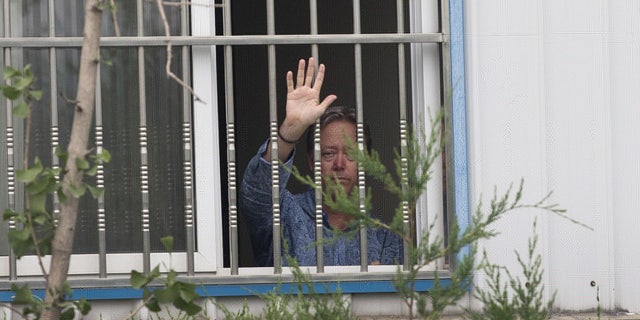 BEIJING – A U.S. company boss held hostage by his Chinese workers at a Beijing plant for nearly a week in a compensation dispute said Thursday an agreement on a payout has been reached to allow his release.
Chip Starnes told The Associated Press a deal was reached overnight to pay the dozens of workers who had demanded generous severance packages similar to ones given to co-workers in a phased-out division, even though the company said the remaining workers weren't being laid off.
The remaining workers said they believed the entire medical supply plant was on the verge of being shut down, saying the company owed unpaid salary and that they saw equipment being packed up and itemized for shipping to India last week.
Police in Huairou district, on the outskirts of Beijing, made no moves to halt the labor action but guarded the plant and said early this week that they would guarantee Starnes' safety while local labor officials brokered negotiations.
Starnes, a co-owner of Florida-based Specialty Medical Supplies who was confined to the plant by workers since last Friday, said he was forced to give in to the worker's demands, and summed up the past several days as "humiliating, embarrassing." He had spoken with reporters in recent days through a barred window of his office where he spent much of his time.
"We have transferred our funds from the U.S.," he said by phone early Thursday. "I am basically free to go when the funds hit the account here of the company." He declined to say how much.
Starnes said he planned to get back to business, and even rehire some of the workers who had been holding him. "We're going to take Thursday off to let the dust settle, and we're going to be rehiring a lot of the previous workers on new contracts as of Friday," he said.
Chu Lixiang, director of Huairou district workers union, said details would be released later Thursday. Two of the plants' workers reached by telephone declined to comment.
It is not rare in China for managers to be held by workers demanding back pay or other benefits, often from their Chinese owners. Police are reluctant to intervene, as they consider it a business dispute.
Starnes previously said the company had been winding down its plastics division, with plans to move it to Mumbai. He arrived in Beijing last week to lay off the last 30 people. Workers in other divisions started demanding similar severance packages last Friday.
About 80 workers at the plant blocked exits since then. At the beginning of his captivity, he said, they had deprived him of sleep by shining bright lights and banging on windows of his office.