Already owing $23 billion to China, bankrupt Venezuela asks for more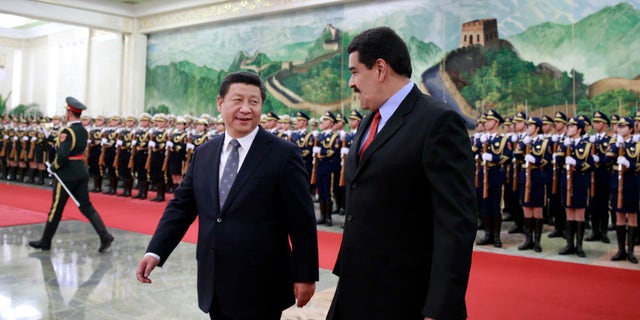 NEWYou can now listen to Fox News articles!
Beijing – Venezuela's President Nicolás Maduro met Thursday with Chinese leader Xi Jinping amid hopes for new loans to bolster the South American nation's stricken economy.
Xi reiterated the importance of relations during talks between the two leaders at the Great Hall of the People in Beijing, saying the two countries enjoyed a "cooperative strategic partnership" and would deepen cooperation in all areas.
There was no immediate word on new Chinese loans.
China is Venezuela's largest creditor and has loaned it more than $40 billion over the past five years, some of which has been paid back in the form of oil deliveries. While Beijing is eager to keep relations healthy, it may become reluctant to continue lending the South American country large sums if prospects for repayment dim.
According to a study conducted by El Nacional newspaper and published Wednesday, the Chinese debt (approximately $23 billion) amounts to each Venezuelan owing $761.43.
After the meeting, the third between the two leaders since Maduro took power in 2013, the Venezuelan president said that during the trip, his government had drummed up Chinese investments in energy, technology and infrastructure projects worth $20 billion.
The German news agency DPA reported that Maduro and Xi sealed an agreement to finance the construction of 30 "Bolivarian school cities" to be financed in part with the support of Chinese companies like ZTE and Huawei.
Maduro's visit occurs at a time that Venezuela is struggling with the world's highest inflation rate (64 percent in 2014), a deep recession and a cash crunch worsened by the steep fall in the price of oil.
It has so far unsuccessfully urged OPEC nations to work together to drive up oil prices, which have fallen by 50 percent in six months. Venezuela depends on oil for 95 percent of its export income.
However, President Maduro says there is no need for alarm.
"Sometimes there's a conspiracy to try and make the world see Venezuela as bankrupt," Maduro told journalists, highlighting the investments as a show of confidence in the country's socialist revolution. "Venezuela is an economic power in its own right, with a productive population and giant potential."
Maduro traveled to China on Sunday along with the presidents of Ecuador and Costa Rica for high-level talks on Chinese trade, investment and financial support in Latin America. On Tuesday, Ecuador announced it had secured a $5.3 billion credit line from China's Eximbank.
China last year loosened its lending terms to Venezuela, extending a deadline for repayment and ending minimum shipment requirements.
The Associated Press contributed to this report.