Almost 700 arrested in Canada tuition protest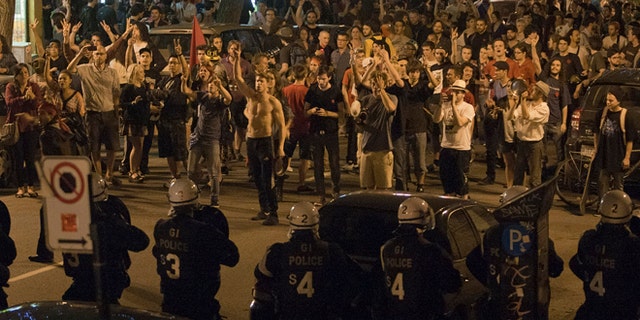 MONTREAL – Police arrested almost 700 people overnight in the latest protest in Quebec over higher university tuition.
The student protests have only grown since the provincial government last week passed emergency legislation in an attempt to end Canada's most sustained student demonstrations ever.
Protesters on Wednesday night threw objects at police in Montreal as what started as a peaceful march fell apart. Police encircled the thousands of protesters and squeezed them into a tighter space.
Arrests were made in Montreal and Quebec City.
Wednesday night's protest was declared illegal by police the minute it was scheduled to start as demonstrators didn't provide an itinerary, disobeying the new law.
Quebec Premier Jean Charest has refused to roll back the tuition hikes of C$254 (US$249) per year over seven years. Quebec has the lowest tuition rates in Canada, and they would remain among the country's lowest.
The conflict has caused considerable upheaval in the French-speaking province known for having the country's most contentious protests.