Alleged new boss of Mexico's Zetas cartel spent time living - and smuggling drugs - in Dallas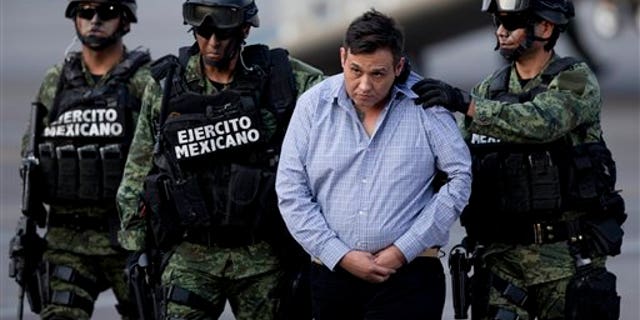 NEWYou can now listen to Fox News articles!
The man expected to take control of Mexico's ruthless Zetas drug cartel is a mild-mannered ex-con and former bricklayer who spent over a decade working in Dallas before getting busted for smuggling marijuana into the U.S.
Juan Francisco Treviño Morales, 60, the older brother Omar Treviño Morales, who was captured early Wednesday, is a former marijuana trafficker who allegedly convinced his younger brothers, Omar and Miguel, to leave their jobs in Nuevo Laredo, Mexico to venture into the lucrative U.S. drug market.
The world that his brothers helped create as the leaders of the Zetas, however, is a lot different from the one Juan Francisco knew as a small-time marijuana smuggler. The infamous cartel has in recent years left a bloody path of brutality as it became one of the most successful and notorious drug trafficking organizations in the world.
"Francisco will need to prove that he can lead and can stop his enemies from encroaching on Nuevo Laredo, which remains the crown jewel for smugglers," Oscar Hagelsieb, assistant special agent-in-charge of the Homeland Security Investigations office in El Paso, told the Dallas Morning News. "He's been out of the game. He's older and might seem out of his element. He has to prove he's as ruthless, as powerful and charismatic as his younger brothers, and that's a tall order. He will have a hard time succeeding."
The older Treviño Morales arrived in the Dallas area in 1978 and then moved into the eastern suburb of Mesquite, where he worked as a bricklayer.
His life on the wrong side of the law began in 1994 when he pleaded guilty of failing to report $47,000 in currency at the border and received probation. A year later, Treviño Morales was convicted for dealing and transporting marijuana and he served time in federal lock-ups in Texas and Colorado.
Following his release in March 2014, Treviño Morales was deported.
During his time in prison, the Zetas became one of the two most powerful drug-trafficking organizations in Mexico
The Zetas criminal syndicate controls the largest territory in Mexico, stretching up and down the country's east coast to the Mexican border town of Nuevo Laredo. After several years as the armed wing of the Gulf cartel, Los Zetas went into the drug business on their own in early 2010, quickly snatching up territory from their former bosses and other rival drug groups.
The criminal syndicate is known for its brutality. The group was suspected of igniting a fire at a casino in Monterrey, killing 52 Mexican civilians in 2011. The group is also suspected of leaving 49 mutilated bodies in a northern Mexico town square.
Recently, however, the Zetas have attempted shed their brutal image and become more of a Robin Hood-type group that fights for the people. The move, which has come as the group has faced a splintering within its ranks and an expansion of smaller drug-trafficking organizations in the country, occurred as Juan Francisco has taken more control of the Zetas.
"Omar was no longer really in charge. He was more of a figurehead," Texas' Webb County Sheriff Martin Cuellar told the Dallas Morning News. "The reins had been passed down to Francisco, who's known to be much more low-key.
"We expect rival groups will try and take over," Cuellar added.
The question on many observers' minds is if the meeker Juan Francisco can grapple with the new drug environment in Mexico, one that his brother Omar seemed to revel in before his arrest earlier this week.
"The Zetas," the Drug Enforcement Administration said in a press release, "represent the worst in global organized crime: violence, intimidation, corruption, and brutal killings."
Like us on Facebook
Follow us on Twitter & Instagram