Albanian opposition supporters take to the streets against government policies on poverty, EU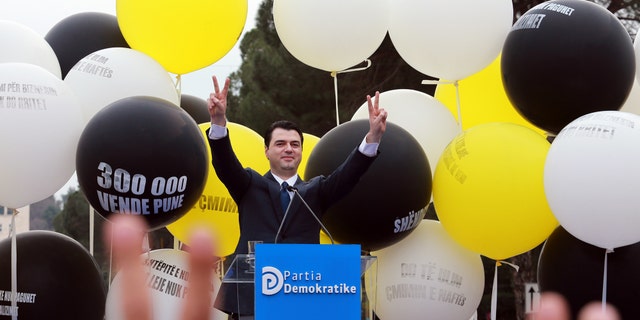 NEWYou can now listen to Fox News articles!
TIRANA, Albania – More than 5,000 Albanian opposition supporters have marched peacefully through the capital Tirana, accusing the government of failing to fight poverty and unemployment.
Opposition Democratic Party leader Lulzim Basha called Thursday's march the start of a protest campaign.
He also criticized the government over the European Union's recent rejection of Albania's bid for candidate member status in the bloc.
Prime Minister Edi Rama's Socialist party swept to power in June, 2013, pledging to push for EU integration and create new jobs. Unemployment was at 12.8 percent in last year's third quarter, according to the statistical authority, although Rama has claimed it is significantly higher.
The EU has postponed until this spring its decision about Albania's bid for member status, asking for tangible results in fighting corruption and organized crime, and consolidating the rule of law.