Al Qaeda offers to trade British hostage for cleric Abu Qatada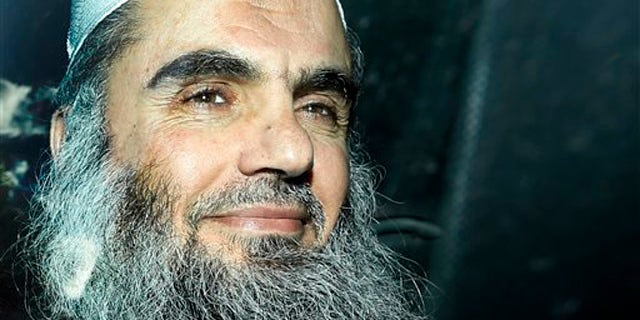 CAIRO – Al Qaeda's North African affiliate Monday offered to free a British hostage if London allows a radical cleric described as a leading figure in the terror group in Europe to leave Britain for another country.
Al Qaeda in the Islamic Maghreb in a statement posted Monday on a militant website said it would release Stephen Malcolm if the cleric Abu Qatada were let go. It warned that the British government would be responsible for the consequences if it follows through on a plan to deport him to Jordan, where he faces trial on terrorism charges.
Authorities in Britain have been trying to expel the Palestinian-Jordanian preacher since 2001, but the European Court of Human Rights ruled he could not be deported to Jordan because of a risk that evidence obtained through torture would be used against him there.
Earlier this month, British authorities detained the cleric once again, and at the time said they were close to deporting him to Jordan.
Abu Qatada, whose real name is Omar Mahmoud Mohammed Othman, has been described in both Spanish and British courts as a leading Al Qaeda figure in Europe and a threat to national security. He was first detained in Britain in 2002.
"We offer the British government an initiative to release its citizen Stephen Malcolm .... who is our prisoner, if it allows Sheik Abu Qatada to leave to one of the Arab Spring countries or any other country of his choice where he guarantees his freedom and, rights and dignity," it said.
Elections held in the aftermath of the pro-democracy uprisings that have swept the Middle East in the past year have resulted in Islamist-dominated parliaments in Morocco, Tunisia and Egypt.
Malcolm was kidnapped along with a Swedish and a Dutch national from a restaurant in Timbuktu, Mali in November. He also holds South African citizenship.
The terror group expressed hope that the British government would deal with the offer with "objectivity, reason and wisdom" but threatened that Britain would be responsible for the consequences if he is handed over to the Jordanian government.
Britain has not commented on the proposal. A British official speaking on condition of anonymity because of the sensitivity of his job said, "We don't engage with terrorists in these matters."
Al Qaeda denied Abu Qatada has any ties to it, but said it was defending him because of allegiances to a "Muslim brother" should come ahead of other ideological concerns.
The group argued that Abu Qatada's case proves that Britain does not protect human rights or justice.
"How come the Sheik was jailed for years merely for exercising his right to express his opinion and beliefs, in words and writing," it said.
The cleric spent six years in jail in Britain, although he has never been charged with any crime. Earlier this month, he was detained again, and British authorities said at the time that they were close to deporting him. Jordan has said it will guarantee Abu Qatada a fair trial and that no evidence obtained through torture could be used in any trial.
The Al Qaeda statement alluded to the possibility of torture in Jordan, saying the country has a record "full of unprecedented crimes against Muslim prisoners."
AQIM grew out of armed Islamic groups fighting the Algerian government in the 1990s and eventually expanded its operations. In 2006, the group announced it had joined Al Qaeda. They are known to make money by smuggling and kidnapping. Some 50 Europeans and Canadians have been kidnapped and ransomed by the group.