Al Qaeda-linked rebels apologize after beheading wrong man, report says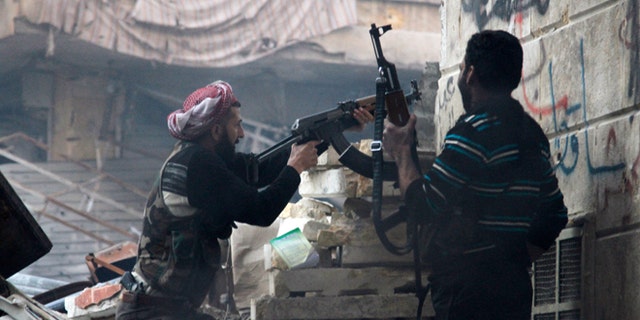 Syrian rebel fighters linked with Al Qaeda have asked for "understanding and forgiveness" after mistakenly beheading one of their allies and putting the head on display.
In a video posted online, members of Islamic State of Iraq and al-Sham were shown holding up the head of what they thought was a supporter of President Bashar Assad before a crowd in Aleppo, The Telegraph reported.
After the video was posted, the head was recognized as belonging to Mohammed Fares, a member of Ahrar al-Sham, a well-established rebel group that regularly fights alongside the Islamic State of Iraq, according to the report.
Omar al-Qahtani, a spokesman for the Islamic State of Iraq, said Fares thought he had been captured by pro-Assad Shia fighters and asked them to kill him. Explaining the error, al-Qahtani said Allah would forgive a man who unknowingly killed a fellow believer.
Earlier in the day, state-run Syrian television channel Al-Ikhbariya said two bombs exploded near a famous Damascus bazaar, killing at least one person and wounding seven.
Bomb and mortar attacks are not uncommon in the Syrian capital.
Meanwhile on Thursday, Assad and Russian leader Vladimir Putin discussed a proposed peace conference to end Syria's nearly three-year civil war and Damascus' efforts to put its chemical weapons under international supervision.
The United States and Russia have been trying to convene a peace conference in Geneva since May to broker a political solution to the Syrian conflict that activists say has killed more than 120,000 people and displaced millions more.
Speaking to Assad by telephone, Russian leader Vladimir Putin "emphasized efforts taken by Russia together with its partners to prepare a Geneva-2 international conference and gave a positive assessment of Bashar Assad's readiness to send a Syrian government delegation there," the Kremlin said.
The Syrian government has said it will take part in the peace talks, although officials have said they will not talk to armed rebels or members of the main Syrian opposition group in exile. Its avowed willingness to attend the Geneva conference coincides with a military offensive that has seen Assad's forces seize ground near Damascus and in the northern province of Aleppo.
The main Western-backed opposition group, the Syrian National Coalition, said in a statement Monday it would only attend the Geneva talks if humanitarian aid is allowed to reach besieged areas and the government releases political prisoners. The group itself wants any future transitional government to exclude Assad and his close allies, a demand the Syrian government has rejected.
The Associated Press contributed to this report.
Click here for more from The Telegraph.