Al Qaeda claims responsibility for Iraq bombings that killed almost 50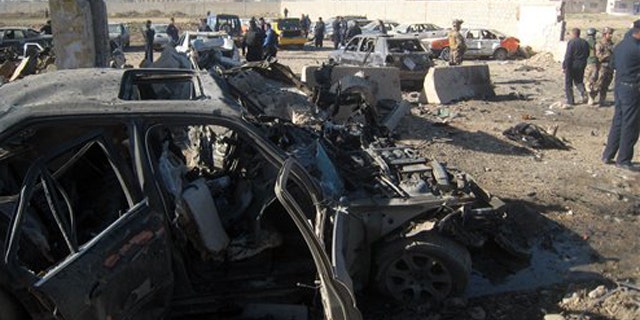 BAGHDAD – Al Qaeda's front group in Iraq claimed responsibility Wednesday for a wave of attacks that killed 46 people across the country this week and said the violence exposes how weak government security is ahead of the upcoming Arab League summit in Baghdad.
The attacks on Tuesday struck Shiite pilgrims in the holy city of Karbala, set cars on fire near a police headquarters in Kirkuk and targeted security forces and government officials in Baghdad.
In all, insurgents struck eight cities in just under six hours, killing 46 people and wounding 200.
The statement by the Islamic State of Iraq, posted on a militant website Wednesday, said its "Sunni lions" targeted the plan of the "fool government preparing" for the summit.
"Within a few hours, all the security measures adopted by the Shiite government have collapsed and the enemy was taken by surprise," the statement said. "Several government and security headquarters were attacked."
The government vowed not to be scared off from hosting the summit -- the first to take place in Iraq since 1990 and a chance to prove it is moving toward normalcy after years of war.
The attacks were not entirely unexpected: Government and security officials have warned for weeks that Al Qaeda and Sunni sympathizers would try to thwart next week's League summit by sowing fear about Baghdad's stability. Plans for the capital to host the meeting last year were postponed, in part because of concerns about security.
Last week, the government said it would deploy an unprecedented number of security forces to protect the capital for the meeting. An estimated 26,000 police officers and soldiers -- including more than 4,000 from Iraq's north and south -- are expected to be deployed in Baghdad.
But citizens and lawmakers have questioned whether the capital will be safe during the Arab meeting.
Extremists have launched large-scale attacks in Iraq every few weeks for nearly a year. The violence now is nowhere as frequent as it was during the tit-for-tat sectarian fighting a few years ago. But the attacks appear to be more deadly than they were before American military's withdrawal in late December.
Small-scale violence is still an aspect of daily life in Iraq. On Wednesday, assailants killed a Shiite mother and her three children in the Zafaraniyah neighborhood in southeastern Baghdad, slitting their throats after breaking into the family's home.
Police and a hospital officials confirmed the casualties. All officials spoke on condition of anonymity because they were not authorized to release the information.