Al-Qaeda branch replaces slain commanders in Mali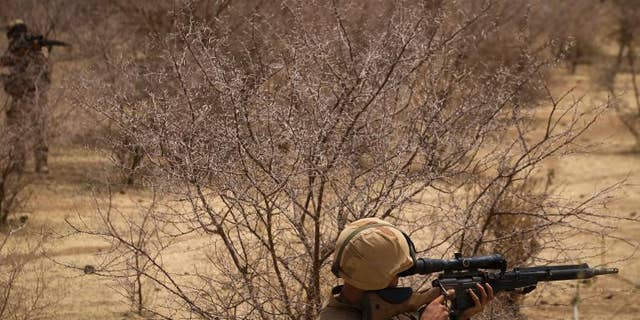 Nouakchott (AFP) – Al-Qaeda has named a replacement for Abdelhamid Abou Zeid, a key commander of its north African branch who was killed in fighting with French-led forces in northeli, Mauritanian media reported Friday.
Al Qaeda in the Islamic Maghreb (AQIM) has appointed Algerian Said Abou Moughatil to take over the "Tarek Ibn Ziyad" batallion in northern Mali, the ANI news agency said.
His predecessor Abou Zeid, 46, was credited with having significantly expanded the jihadist group's field of operations to Tunisia and Niger, and for kidnapping activities across the region.
France confirmed in March that Abou Zeid had been killed "during fighting led by the French army in the Ifoghas mountains in northern Mali in late February".
"The elimination of one of the main leaders of AQIM marks an important stage in the fight against terrorism in the Sahel," the office of French President Francois Hollande said.
ANI said AQIM had also picked a Libyan-born Mauritanian named only as Abderrahmane to command its "Al Fourghane" batallion, replacing Mohamed Lemine Ould El Hassan, who was killed in a French helicopter raid in northern Mali earlier this year.
ANI said Abou Moughatil joined AQIM in northern Mali in the early 2000s, while Abderrahmane joined in 2006 and was involved in the capture of the Malian desert town of Timbuktu by Islamists last year.
France sent troops into its former colony Mali in January to repel a sweeping Islamist occupation by groups linked to Al-Qaeda, including AQIM which was threatening an assault on the capital Bamako.
AQIM grew out of a movement launched in the late 1990s by radical Algerian Islamists who sought the overthrow of the Algerian government to be replaced with Islamic rule.
The organisation linked up to Al-Qaeda in 2006 and has spun a tight network across tribes, clans, family and business lines that stretches across the vast Sahel region abutting the southern Sahara desert.
AQIM is currently thought to be holding eight Europeans hostage, including five French nationals, and earlier this month released a video deemed credible by France showing seven of them.
During the nearly year-long 2012 occupation of northern Mali -- which borders Mauritania -- AQIM and its allies Ansar Dine (Defenders of Faith) and the Movement for Oneness and Jihad in West Africa (MUJAO) used ANI as a conduit for information.
Threats to retaliate against the French-led military intervention that ousted the Islamists have also filtered through ANI and other sites boasting a vast network of informants and correspondents in the Sahel region