After pulling out of UN migration talks, US supports world body's refugee effort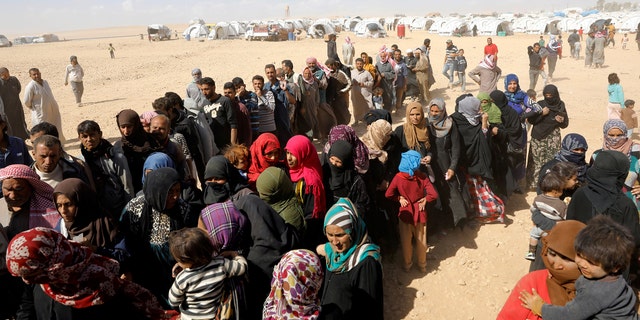 The Trump administration, which pulled out of talks last week on a United Nations-sponsored Global Compact for Migration, is quietly staying the course on a proposed Global Compact on Refugees that aims to stem the worst crisis the world has seen since World War II.
Talks toward the refugee pact move forward on December 12 in Geneva, at a ponderously named United Nations High Commissioner for Refugees (UNHCR) Dialogue on Protection Challenges in Geneva, with some 500 government, international and private sector participants.
The two-day discussions are supposed to help lead to a draft refugee compact in February, which in turn will lead, in classic U.N. fashion, to still more consultations before another version is presented in September. Details on a subsequent General Assembly vote are still being worked out.
Whether that complicated bureaucratic effort will do much in a world where the calamities producing the refugee flood appear to be metastasizing is still a large, open question. According to UNHCR, the tide of people forced out of their countries by war, famine or natural disaster swelled to an estimated 22.5 million in 2016, from 21.3 million the previous year.
The bigger numbers of people internally displaced in their own countries (who thus officially do not count as refugees) is growing, too: 43.1 million internally displaced person and asylum seekers as a result of conflict and violence in 2016. That is a virtually doubling of the numbers since 2000, while the number of unresolved wars, persecutions and other forms of strife that are the biggest drivers of the crisis is also expanding.
Last year, looking at every type of disaster, the U.N.'s Office for the Coordination of Humanitarian Assistance (OCHA) estimated that the entire panoply of U.N. and other aid organizations needed some $22.2 billion, a number that later grew to $24 billion.
Out of that total, by late November, OCHA recorded "omnibus appeal" funding of $12.6 billion—a new record. UNHCR, with a 2017 "needs" budget of some $7.8 billion, reports that it is only 46 percent funded.
OCHA's omnibus humanitarian needs estimate for 2018 is starting out at $22.5 billion.
The refugee compact remains a Trump administration priority because unlike the migrant issue, it complements Washington's tough immigration stance. It aims at helping those displaced to stay where they are in host countries or return home, as a State Department spokesperson puts it, "voluntarily, in safety and with dignity."
Another aim is equally pragmatic: to spur nations to donate beyond the traditional two-dozen or so who usually share the burden of the crisis, and where the U.S. is by far the biggest donor.
(The U.S. last year contributed some $1.4 billion to UNHCR in 2017, and gave some $8.37 billion during the fiscal year to overall humanitarian assistance, according to foreignassistance.gov. So far, the administration has budgeted $5.27 billion for fiscal 2018.)
Finally, the hope is that the compact will push the sclerotic U.N. and other institutions into streamlining, efficiency, and the use of non-traditional resources, including a larger dependence on the private sector, to meet needs that patently have overwhelmed all of its usual approaches.
(This year, according to UNHCR, private-sector donations to the organization will total about $388 million, a tally that would have put the sector third on UNHCR's donor list, after the U.S. and the European Union.)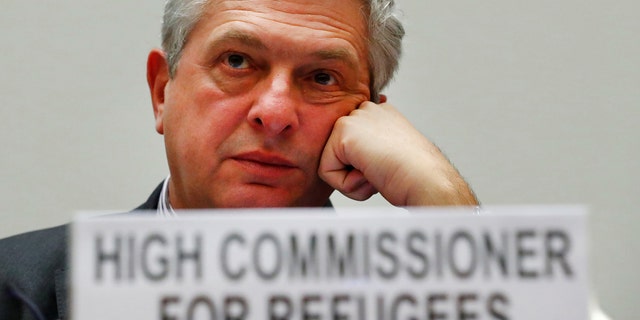 "Everyone knows business as usual is no longer an option," said Christopher Boian, a UNHCR spokesperson in Washington. "The Global Compact on Refugees is about sharing responsibility more widely, more equitably and more intelligently. It is about delivering results that benefit both refugees and the communities that welcome and integrate them."
Just how far the U.N. had fallen off that mark was noted discreetly in a 2016 "functional review" of OCHA, its chief humanitarian coordinating arm, carried out by private consultants.
The report noted primly that the organization was subject to "widespread organizational dysfunction," with dual New York and Geneva headquarters leading to "unnecessary complexity and confusion."
"Decisions made at the senior management level generally lack disciplined follow through," the report added, noting "a disconnect between functional groups at headquarters and those in the field."
The report also said OCHA was top-heavy and that "the fragmentation of functions across branches leads to confusion as to who does what, and is a driver of duplication in the organization."
All of those deficiencies are now the focus of reform efforts by Mark Lowcock, OCHA's new head, previously the top civil servant for six years in Britain's equivalent of USAID, the Department for International Development, or DFID.
Outside of OCHA, the U.N.'s new lean and efficient approach is supposed to be focused through a new "Comprehensive Refugee Response Framework," which was approved at the 2016 New York summit meeting on refugees and migration that also authorized the two pending global compacts.
The CRRF, as the U.N. calls it, is intended to better involve "national and local authorities, international organizations, international financial institutions, regional organizations, regional coordination and partnership mechanisms, civil society partners, including faith-based organizations and academia, the private sector, media and refugees themselves" in the effort to improve their dire plight.
So far, though, many of the specifics of the framework are still under discussion, including at the current Geneva meeting, before it will be rolled out, tentatively, in a series of pilot projects.
And at the same time, UNHCR observes in a background document on the CRRF, the revised approach "is not a new coordination mechanism," but builds on approaches that already exist.
It will, however, involve many new briefings, conversations, and engagements with U.N. member states "through nominated focal points."