After debate mention, reports resurface of beauty queen having had cartel killer's child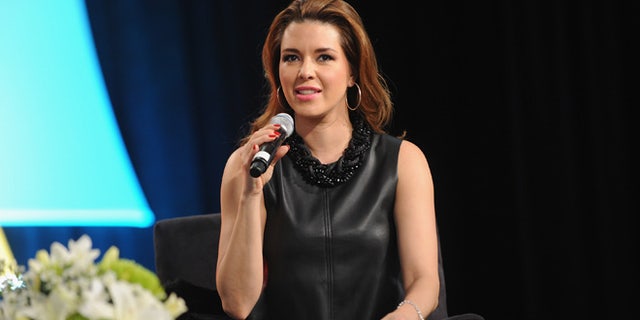 Since being name-dropped by Hillary Clinton during Monday night's U.S. presidential debate, former Miss Universe Alicia Machado has been in the spotlight for her high-profile spat with Donald Trump over her weight while she held the title.
More recently, Machado received her U.S. citizenship in time, she said, to vote against Trump.
The spotlight, however, is shifting away from her tiff with Trump – who repeatedly criticized her weight gain after she won the pageant in 1996 – as reports out of Mexico claim that the Venezuelan beauty queen had a love affair with a ranking member of the Beltrán Leyva drug cartel, who is reputed to be the father of her daughter.
Numerous Mexican newspapers reported in 2010 that Machado had been romantically involved with José Gerardo "El Indio" Alvarez – a capo for the Beltrán Leyva cartel who is now behind bars. The child's christening, they reported, was attended by Arturo Beltrán Leyva, aka "El Jefe de Jefes" ("the Boss of Bosses"), his brother Héctor Beltrán and Edgar "La Barbie" Valdés Villarreal.
Machado has steadfastly denied any relationship with the cartel capo and has said that her daughter's father is a Mexican businessman named Rafael Hernández. The beauty queen claimed earlier this year that the Mexican government planned to release an official document proving that "El Indio" is not the father, but Mexican officials have not made any such document available to the public.
Neither Machado nor the Clinton campaign responded to Fox News Latino's request for comment.
Machado has spent much of this week stumping for Clinton following the Democratic presidential candidate's mention of her during the debate against Republican nominee Trump Monday in New York.
During a press call on Tuesday, Machado trashed her longtime nemesis, Trump, deried the then-19-year-old Venezuelan when she won the Miss Universe pageant in 1996, which had been purchased by Trump the same year.
After being crowned Miss Universe, she gained 15 pounds and appeared with Trump at a press conference during which he said he supported her weight-loss efforts. She said the affair turned into a "Fat Miss Universe" joke that haunted her for years. She blames Trump for years of suffering from an eating disorder. She claims Trump at the time was "rude" and "brutal."
During the debate, Clinton brought up Machado's claim that Trump called her "Miss Piggy" after she gained weight.
"One of the worst things he said was about a woman in a beauty contest – he loves beauty contests, supporting them and hanging around them – and he called this woman 'Miss Piggy.' Then he called her 'Miss Housekeeping' because she was Latina," Clinton claimed.
Machado said that it has been difficult for her to follow the presidential campaign because coverage of the race has been dominated by Trump and his policy proposals.
"I never thought I would be watching this guy again doing stupid things and making stupid comments," she said. "It's like a bad dream."