After death fatwas and Tunisia slaying, security increased for Egyptian opposition figures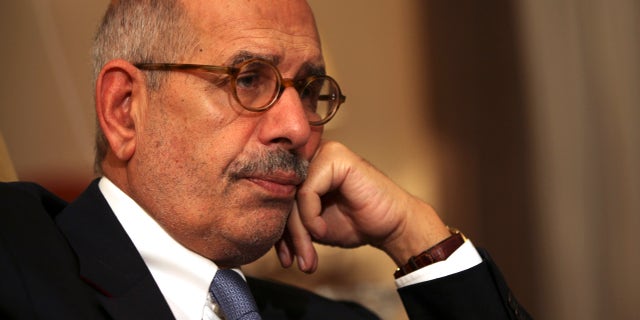 NEWYou can now listen to Fox News articles!
CAIRO – Security was beefed up around Egypt's opposition leaders on Thursday after several hardline Muslim clerics issued religious edicts calling for them to be killed, raising fears of assassinations similar to that of a Tunisian opposition leader gunned down a day earlier in Tunisia.
Egypt's prime minister and the Muslim Brotherhood, which forms the backbone of the country's leadership, condemned the edicts, or fatwas, and the top prosecutor launched an investigation against one of the clerics.
The slaying in Tunisia of opposition leader Chokri Belaid and the fatwas in Egypt have sparked an uproar in both countries and raised concerns that religious hard-liners could turn to killings to silence critics of Islamists' rule.
In Egypt, hard-liners have reacted with fury to a wave of protests against Islamist President Mohammed Morsi since late January, which have turned into deadly clashes as police cracked down on the demonstrators. Aides to Morsi and Muslim Brotherhood officials have depicted the protesters as thugs and criminals and have accused opposition politicians of condoning or even fueling violence in an attempt to undermine Morsi.
Using similar rhetoric, several well-known hardline clerics the past week declared that punishments under Islamic law for those who cause chaos or try to overthrow the ruler apply to the protesters and opposition leaders — including death, crucifixion or amputations of limbs.
Another cleric suggested that violent sexual assaults of women protesters in Tahrir Square the past week were justified, calling them "either Crusaders (Christians) ... or widows who have no one to rein them in."
After criticism of government silence over the fatwas calling for killing opposition leaders, Prime Minister Hesham Kandil on Thursday warned that such edicts could lead to "sedition and disturbance."
"These extremist edicts are not related to Islam," Kandil said, according to the state news agency. "The Egyptian people had a glorious January Revolution for the sake of establishing a democratic society where dialogue prevails, not killing."
A day earlier, Egypt's most prominent opposition leader Mohamed ElBaradei, head of the National Salvation Front, had said on his Twitter account, "Regime silent as another fatwa gives license to kill opposition in the name of Islam."
Interior Ministry spokesman Gen. Hani Abdel Latif said security authorities will increase patrols in residential areas where opposition leaders live in. He told the website of the state Al-Ahram newspaper that security officials have "put into consideration" the assassination of the Tunisia's Belaid.
A security official said ElBaradei's home and several other leaders' homes will be put under observation for their protection. The official spoke on condition of anonymity because he was not authorized to speak to the press.
The fatwas came after the wave of unrest that swept over Egypt since late January, when protests against Morsi turned to clashes in many places, and demonstrators have cut off roads and held strikes outside government buildings. Dozens were killed in police crackdowns on protesters. Last Friday, protests outside Morsi's presidential palace turned into riots as police rained tear gas and fired birdshots at demonstrators throwing stones and firebombs, and then set fire to protesters' tents. In a sign of the increasing mayhem, police stopped a man trying to drive a bulldozer at the palace's gates the next day.
One well-known TV cleric, Mahmoud Shaaban, said the leaders of the National Salvation Front are "setting Egypt on fire to gain power."
"The verdict against them under God's law is death," he said on a talk show on a TV station connected to the ultraconservative Salafi movement.
He mentioned ElBaradei and another Front leader, Hamdeen Sabahi, saying "they have repeatedly spoken about toppling Morsi." Later in the program, he clarified that the government should carry out the verdict, not private citizens.
Separately, another hardline cleric Wagdi Ghoneim issued a video statement pleading with Morsi to crack down heavily on those outside his palace. He said "the verdict under Shariah for those who seek corruption on earth is to be fought, or crucified, or have their arms or legs cut off or be exiled from earth."
"Strike with an iron fist. Otherwise, the country will be lost at your hand and they'll say it is your fault. They'll say Islam doesn't know how to rule and that it's the Islamists who wrecked the country," he said. He said that if Morsi's government doesn't act, private citizens will.
"We will kill the criminals, the thugs, the thieves and those who give them money and those who help them with words. No mercy with them," Ghoneim shouted.
Top prosecutor Talaat Ibrahim ordered an investigation into Shaaban for his fatwa.
Another television sheik seemed to justify sexual assaults on women in Tahrir. Activists have reported at least 19 such attacks on Jan. 25, the day Egyptians marked their second anniversary of 2011 revolution that ousted longtime president Hosni Mubarak. In many cases, mobs swarm a woman protester, stripping her and sexually assaulting her.
On his TV show on Wednesday, cleric Ahmed Mohammed Abdullah derided opposition statements that attacking women was "a red line" that must not be crossed. "Does that apply to these naked women?" he said. "Most of them are Crusaders ... or widows with no one to rein them in" and ensure they remain modest.
"They are going there to get raped," he screamed. He spoke of their curly hair, saying "these are devils named women ... they speak with no femininity, no morals, no fear ... Learn from Muslim women, be Muslims."
Abdullah, known as Abu Islam, is current on trial on charges of religion contempt after he told a protest outside the U.S. Embassy in Cairo that he tore a copy of the Bible and next time he will urinate on it. The protest took place on Sept. 11 after an anti-Islam film made in the US caused uproar.
Morsi's Muslim Brotherhood also condemned the fatwas calling killing the opposition by saying, "the Muslim Brotherhood denounce calls that permit bloodshed and incites for killing."
Al-Azhar, the Sunni Muslim world's premier Islamic institution, feared that such edicts "open the doors of sedition and chaos of killing and bloodshed." In a statement, it called upon Egyptians to "to adhere to the position of the Islamic law, which emphasizes the sanctity of blood."
The National Salvation Front issued a statement condemning the assassination of the Tunisian politician.
The assassination "sounds danger alarms from Tunisia to Cairo, and warns of the cancerous growth of terrorist groups cloaked by religion and carrying out a plot to liquidate the opposition morally and physically."
Egyptians have witnessed series of assassinations of top statesmen and writers on hands of Islamic extremists after religious edicts were issued against them back in 1990s during a surge of Islamist extremist insurgency.