African football legends play for peace in Liberia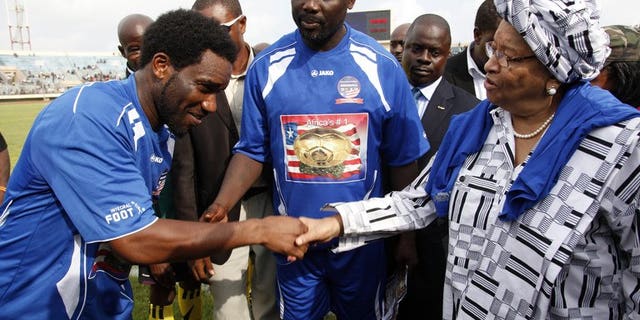 MONROVIA (AFP) – Liberian football great George Weah has been joined by legends of the game from across Africa to promote reconciliation in his homeland more than a decade after civil wars which killed 250,000 people.
Weah, who was recently chosen to be Liberia's Peace Ambassador, invited Cameroonians Roger Milla and Patrick Mboma, JJ Okocha of Nigeria and Cyril Domoraud of Ivory Coast for a glittering exhibition match in the capital Monrovia on Saturday.
"I know my job is very difficult but I want you all... to join me in sending the message of peace to our people. My appeal to you all is to help me achieve peace," Weah said as he launched a campaign for post-war reconcilation.
Thousands of Liberians enjoyed a display of skill put on by the veterans before Weah presented his Ballon d'Or -- which he was awarded for being European Footballer of the Year in 1995 -- to the people of Liberia.
Deep psychological and physical wounds remain in Liberia after two back-to-back civil wars which ran from 1989 to 2003 and left a quarter of a million people dead.
Numerous rebel factions raped, maimed and killed, some making use of drugged-up child soldiers, and deep ethnic rivalries and bitterness remain across the west African nation of four million people.
Milla, who achieved international stardom at the late age of 38 by scoring four goals at the 1990 World Cup, told AFP he had come to help Weah bring "genuine peace" to Liberia.