Afghans vote for new parliament despite militant attacks but turnout appears low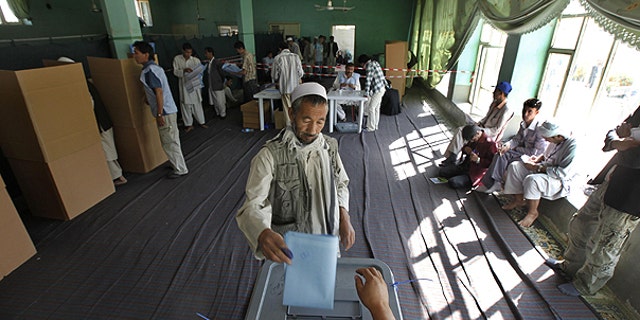 KABUL, Afghanistan – KABUL, Afghanistan (AP) — Despite Taliban rocket strikes and bombings, Afghans voted for a new parliament, the first election since a fraud-marred presidential ballot last year cast doubt on the legitimacy of the embattled government.
As officials tally votes over the next few days, the real test begins: Afghans will have to decide whether to accept the results as legitimate despite a modest turnout and early evidence of fraud.
The Taliban had pledged to disrupt the vote and launched attacks starting with a rocket fired into the capital before dawn Saturday. The insurgent group followed with a series of morning rocket strikes that hit major cities just as people were going to the polls — or weighing whether to risk it.
At least 11 civilians and three police officers were killed, accoring to the Interior Ministry. The governor of Kandahar province survived a bombing as he drove between voting sites. In all, there were 33 bomb explosions and 63 rocket attacks, said Interior Minister Bismillah Khan Mohammadi. He said 27 Taliban were killed Saturday.
Yet there appeared to be less violence than during the last election, when more than 30 civilians were killed and a group of insurgents attacked Kabul. Afghan security officials dismissed the attacks as "insignificant" and said they did not hamper voting, adding that 92 percent of polling stations were open Saturday.
"There are no reports of major incidents," Afghan election commission chairman Fazel Ahmad Manawi told reporters.
Many of those who voted said they were determined to be heard over the Taliban.
At a mosque in eastern Kabul, a former schoolteacher said she had traveled from her home on the outskirts of the city the night before because voting was safer in the city center.
"Even though I heard about those rocket attacks, I wanted to vote," said Aziza, 48, who gave only her first name. "Today is a historic day for Afghan people and it is very important for the restoration of democracy."
But at one school serving as a voting center in Kabul, observers for candidates or election-monitoring groups outnumbered voters by about 10 to one. Four men in tunics marked their ballots surrounded by about 50 people taking notes on their actions.
Though there were lines and bustling crowds at some stations, that appeared to be the exception. Observers across the country reported fewer voters than a year ago, even though the number of sites had been cut to help authorities provide better security.
Defense Minister Wardak described the turnout as "low." He said that fear of attacks and the difficulty of getting to polling stations were likely reasons people stayed home.
The election commission has yet to provide an overall turnout figure but said late Saturday that 3.6 million people cast ballots at the 86 percent of polling stations that had reported figures so far. Nearly 6 million ballots were cast in the presidential vote last year, out of 17 million registered voters.
In several cities, voters appeared to cluster at a few main sites, leading to those sites running out of ballots well before the end of polling.
In the key southern city of Kandahar, a Taliban stronghold where NATO and Afghan forces have been ramping up security, insurgents launched about a dozen attacks on the city. No one died but about a half-dozen people were injured, according to hospital officials, who spoke on condition of anonymity.
One bomb attack narrowly missed the Kandahar provincial governor's convoy as he traveled between polling stations to observe Saturday's parliament vote. One rocket damaged the wall of a police station.
Kandahar voter Lalia Agha, a 26-year old taxi driver, said he was pleased with election day security.
"The election is the only thing we have in our hands in which to change our future," he said.
While the number of voters picked up through the day after a slow start, officials in Kandahar said it was clear turnout was less than during the presidential vote.
A very low turnout — particularly in provinces wracked by the insurgency — could hurt the credibility of the vote in a country where democratic rule has yet to take deep root after decades of war. If residents reject results outright it could enflame ethnic tensions and complicating the transition to a new parliament.
"If voter turnout is low, despite the fact that we had better security, it means that people are disapppointed with the democracy in their country," said Haroun Mir, director of the Afghanistan Center for Research and Policy Studies, a Kabul-based think tank.
About 2,500 candidates were vying for 249 seats in the parliament, and drawn-out fights between candidates slinging accusations of fraud could also hobble an institution that has so far served as only a weak check on the administration of President Hamid Karzai.
A host of allegations of fraud and election worker misconduct piled up in the first few hours of the vote.
Candidate monitors complained that the ink applied to voters' fingers to prevent them from casting multiple ballots was not working. The ink is supposed to last 72 hours, but many said they had been able to wipe it off with bleach.
In Jalalabad, observers said poll workers were letting people vote with fake registration cards.
"The women coming here have so many cards that don't have the stamp and are not real cards but still they are voting," said Nazreen, a monitor for the Free and Fair Election Foundation of Afghanistan, which has dispatched observers throughout the country.
Fake voter cards flooded into Afghanistan ahead of the balloting, but election officials had promised that poll workers were trained to spot them.
In one case in the eastern province of Paktia, security forces stopped a car and found 1,600 fake voter registration cards, said Rohullah Samon, a provincial spokesman.
NATO's senior civilian representative said some fraud was expected, and that it would not necessarily undermine the vote.
"The real issue is the scale of that and does it affect the result. And does it affect the credibility of the election, not in our eyes but in the eyes of the Afghan people?" Mark Sedwill said.
Last year's presidential election was similarly seen as a chance for the government to move forward to a more democratic future, then complaints of ballot-box stuffing — much of it for Karzai's benefit — and misconduct mounted.
Though Karzai still emerged the victor, the drawn-out process and his reluctance to acknowledge corruption led many of his international backers to question their commitment to Afghanistan.
If the people don't accept the results of this vote, it could have a profound effect both inside the country and with Afghanistan's international backers, who have 140,000 troops in country and have spent billions trying to shore up the Karzai administration in the face of a strengthening insurgency. Abdullah Abdullah, the runner-up to Karzai in the 2009 poll, said violence was a possibility if voters feel disenfranchised.
"There is a possibility of people taking things into their own hands," Abdullah said. But he said he was also worried about the administration pushing through candidates regardless of accusations of fraudulent voting.
"If, as a result of massive fraud, it turns out to be a sort of rubber stamp parliament in the hands of the government, then we will lose that opportunity for checks and balances which is expected from the parliament," he said, warning that a weakened legislature would make it easy for Karzai to make constitutional amendments to stay in power past the end of his term.
Gen. David Petraeus, the commander for NATO's troops in Afghanistan, praised Afghans who braved threats to vote, as did the United Nations, European Union, the United States and Canada. But none went so far as to call the vote a success given the way mounting fraud charges nearly undid Karzai.
The first partial vote tallies are expected early next week. Full preliminary results are not expected until the end of the month and final results in late October, after fraud complaints are investigated.
"It's not over yet," said Martine van Bijlert, codirector of the Afghanistan Analysts Network think tank in Kabul. "This is the time — when the counting is going on — where you start moving around ballot papers, where you start kicking out the observers when you're counting."
___
Associated Press writers Kathy Gannon in Jalalabad, Mirwais Khan in Kandahar and Amir Shah, Rahim Faiez, Deb Riechmann, Dusan Stojanovic and Kimberly Dozier in Kabul contributed to this report.