Afghanistan's ambassador on Trump, US troops leaving and Russia's support of the Taliban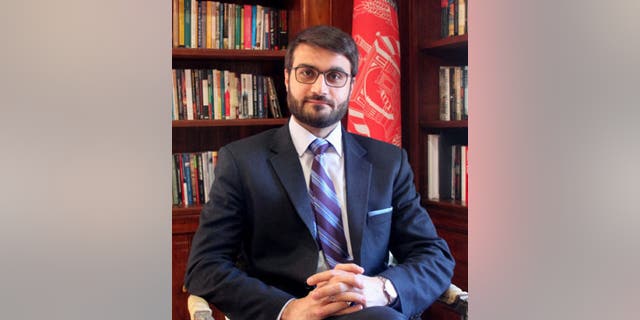 NEWYou can now listen to Fox News articles!
At just 33, Afghanistan's ambassador to the U.S., Hamdullah Mohib, knows all too well what it is to be a child of war.
Born in a small village near Jalalabad in Nangarhar province – mere miles from where the U.S. recently dropped its largest non-nuclear bomb on an ISIS base – his family fled the Soviet fighting, living for several years in Pakistan as refugees. They returned, only to flee across the border once again amid the outbreak of the Afghan civil war in the late 1990s.
Decades later Mohib's homeland remains in conflict. The Russians have apparently re-surfaced, this time allegedly empowering Taliban forces, U.S. military officials want more troops to control insurgent factions and 2016 saw a record number of civilian casualties. Furthermore, terrorists Friday committed the deadliest attack on Afghan troops at their own base in the 16-year U.S-led war, prompting the resignation of the country's defense chiefs.
While prospects appear bleak from the outside, Mohib is optimistic about the Trump administration. He says U.S.-Afghan relations are especially strong, and everything from education, economics and even tourism is looking up. Meantime, Afghan troops will soon be ready to torch terrorism without the U.S. military waiting in the wings, he said.
Fox News: What is your hope for U.S.-Afghanistan relations under the Trump administration?
Hamdullah Mohib: So far we are very encouraged by what we have seen and heard from the Trump administration. There seems to be no hesitation on the part of this White House to fully engage with Afghanistan on a range of key issues, from terrorism to trade.
President Ghani and President Trump have spoken twice by phone and both times have had wide-ranging, productive conversations. They have discussed the security situation, our military needs, Pakistan's role in creating instability and the U.S.-led fight against Daesh [ISIS]. National security adviser H.R. McMaster was just in Afghanistan and had good meetings with President Ghani and other senior government figures.
President Trump is also a keen businessman, and we are gratified that he has shown interest in Afghanistan as a potential U.S. economic partner. He realizes we are a country in a strategic location at the heart of Asia, with the potential to develop into a regional economic force. He recognizes the enormous value of our rich deposits of lithium – which our battery-driven world runs on – as well as our estimated $3 trillion worth of oil, gas and mineral reserves. So we are very much looking forward to working with him and his administration not just to eradicate terrorism from our soil but also to execute President Ghani's vision to make Afghanistan self-reliant and economically stable.
Fox News: Are more U.S troops needed at this time in Afghanistan?
Mohib: Talking only about troop numbers misses the point. We don't disagree with what senior U.S. generals have said, which is that more coalition troops are needed to end the stalemate. We need to turn the tide decisively against the enemy, and to do that our forces also need things like mine detection and detonation equipment, night vision capability, training in aircraft and vehicle maintenance and close intelligence support.
But decisions about troop levels must be driven by agreement on a winning strategy. Afghanistan now has a four-year plan, developed in cooperation with the U.S. and our coalition partners, that, if executed, will mean the difference between winning this war or allowing it to drag on for years to come. That strategy should determine how many troops are needed to win.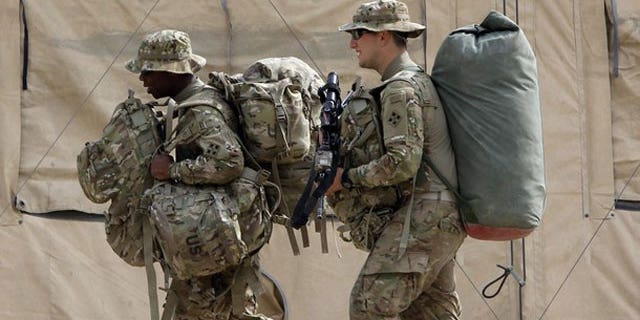 Fox News: Do you expect that all U.S. troops will be able to completely leave by 2020? How will this security and stability be achieved between now and then?
Mohib: The best-case scenario is that by 2020, Afghan troops will be able to carry on with what's needed on their own. But a lot can happen between now and then. The war in Syria is still playing out and its effects are being felt throughout the region. The U.S. has maintained military bases in countries where it feels an American presence promotes regional stability – in South Korea and Japan, for example.
This model might also be appropriate for Afghanistan, but it will depend on how much we have achieved in the international fight against terrorism by 2020.
Fox News: What role can your international partners play in this?
Mohib: The most important thing our international partners can do is to continue to believe in Afghanistan's potential and stand by us as we work to build the future our people deserve. Last summer, our NATO partners renewed their pledge to support the Afghan military forces in Afghanistan through at least 2020. That commitment sent a crucial signal to terrorist groups that the international community stands squarely with Afghanistan and against them.
In October, our international donor partners pledged $15 billion to ensure, as the final communiqué said, "that Afghanistan will remain on a firm path to political and economic stability, state building and development." This, too, was an important milestone: Our partners were satisfied that the government has done what it pledged to do upon taking office in late 2014. We earned their confidence.
Fox News: What do the people of Afghanistan think about continued U.S. presence after all these years?
Mohib: They are enormously grateful for all that America has done to help Afghanistan recover from decades of war and occupation, and they will never forget the sacrifices that so many American military members and their families have made. But they also look forward to the day when Afghanistan is self-reliant and at peace, and not dependent on other nations.
Fox News: Are you concerned about Russian involvement in Afghanistan? Some officials have suggested that they aligning themselves with extremists, and providing the Taliban with weapons. Is this causing problems?
Mohib: We are monitoring the situation. We certainly don't want any foreign power giving material or political support to terror groups that prey on our people. State-sponsored terrorism -- which Pakistan has practiced for many years at enormous cost to Afghanistan -- must be condemned and punished by the international community, without exception.
Fox News: What do you think Russia's intentions in Afghanistan are?
Mohib: I wouldn't presume to know, but Afghanistan is a sovereign country and not up for grabs by any foreign power.
Fox News: Some reports indicate that insecurity and instability is on the rise in Afghanistan. Is this an accurate depiction?
Mohib: Media reports tend to present this image, but the facts tell a different story. The territory that the Taliban control is sparsely populated or entirely unpopulated. Because our security forces have gotten stronger and smarter, the Taliban is avoiding head-to-head battles and instead choosing soft, defenseless targets like hospitals and unprotected buildings. Twice recently they have even dressed in disguise to attack unsuspecting civilians and off-duty soldiers.
These attacks go against all human values, so it's not a surprise that in the pockets of the country where the Taliban once had support, the population has turned against them.
Daesh [ISIS] is attempting to gain a foothold on our soil, but our forces move swiftly and lethally against any position where we find them. And, as we saw with the recent U.S. action against their network of underground tunnels, we are working with our coalition partners to prevent any and all gains.
AFGHANISTAN SUPPORTS SENDING MORE US FORCES
POST-ISIS, IRAQIS DEBATE US TROOPS REMAINING IN THEIR COUNTRY
Fox News: Afghanistan is indeed a beautiful country. Are there efforts in motion to focus on the tourism and economic industries?
Mohib: Afghanistan's natural beauty is truly stunning. We have snow-capped mountains, verdant valleys, fields of saffron and roses, sparkling rivers and waterfalls. And Afghans are famously warm and welcoming to strangers. At the moment, the government is investing in many undeveloped areas of the economy in an effort to generate jobs and revenue, and tourism is certainly one industry yet to be developed. This wasn't always the case, by the way. Before 1980, Afghanistan was very popular with visitors. So we recognize the potential of Afghanistan as a tourist destination, but we see it as something to focus on after we have secured the peace and can promote the country to foreign visitors knowing they will feel entirely safe.
Fox News: You were a refugee yourself. How has this impacted your diplomatic efforts and the way you envision Afghanistan's future?
Mohib: No one wants to leave their home. I left out of necessity as a teenager when my family felt my life was in danger from the Taliban. Many years later, I felt not just an obligation to come home and help rebuild, but a strong desire to be back in my homeland. Now that I represent Afghanistan in America, I meet hundreds of Afghan-Americans who also left but still feel a powerful connection to the country. My own experience means I can empathize with them and serve as a kind of bridge between these two worlds.
I can also relate to young people, being under 40 myself. And Afghanistan has an enormous youth population that is becoming the engine of the country's growth. Here in America, I meet a lot of young bright people who are either studying or working and who want to go back and be a part of the new Afghanistan. That makes me tremendously optimistic about our future.
Fox News: You have noted that education prevails over terrorism. What reforms are needed to improve education in Afghanistan?
Mohib: Today we have nearly 10 million children in school, and almost 40 percent are girls. Education has become an absolute top priority in Afghanistan. But we have a ways to go. We need more teachers and more textbooks, and every village must have a school within easy reach. The curriculum we teach must be on par with international standards so our children can compete in the modern world. We also need to make sure that children with disabilities are welcomed and accommodated in our schools. Right now we don't have enough special-needs teachers, Braille textbooks or handicap accessible buildings, but we are working hard to correct that.
Fox News: As many have stated, corruption in Afghanistan is a big problem. What can be done to combat this, and do you think curbing this will also help in curbing the rise of insurgents?
Mohib: President Ghani ran on a zero-tolerance anti-corruption campaign and he has made this issue a priority. But Afghanistan has had institutionalized corruption for many decades, so it will take more than just two or three or even five years to clean things up. Corruption is entwined with other problems like human trafficking, narcotics production and drug smuggling, all of which feeds and funds violent insurgents and terror groups. Knowing this, the government has taken unprecedented measures to eradicate it.
Just a partial list: We created the National Procurement Authority to scrutinize government contracts, which has saved hundreds of millions of dollars; we implemented transparency and accountability systems across government agencies to eliminate opportunities for graft; we created the first anti-corruption commission and anti-corruption justice center to investigate and prosecute senior Afghan officials; we created a new high council chaired by President Ghani that oversees the public declaration of assets by senior officials; we appointed a new chief justice and attorney general and replaced hundreds of judges and prosecutors; and we fired 25 percent of customs officials and prosecuted several money-laundering cases.
As a result of these and other measures, in 2016 the government collected a record $2.1 billion in revenue, surpassing the International Monetary Fund's target by more than $150 million. That represents a 22 percent increase over 2014. Clearly, we're on the right track.