Afghanistan Koran Burning Protests Rage On for Third Day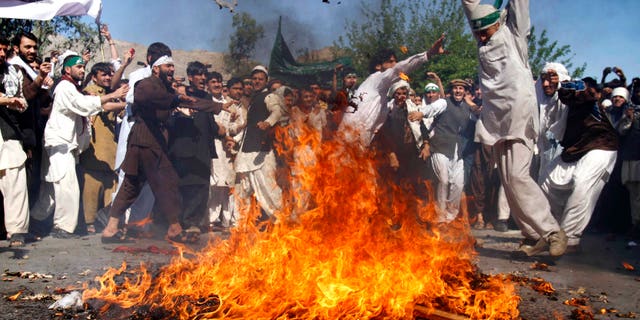 A government spokesman said one had been killed and 16 were injured in a new Koran burning protest in the southern Afghan city of Kandahar Sunday, where hundreds took to the streets to demonstrate for a third consecutive day.
Hundreds also blocked off a highway for three hours in Jalalabad city, shouting for U.S. troops to leave and burned an effigy of President Obama.
A similar protest in eastern Parwan province blocked a main highway with burning tires for about an hour, with more than 1,000 people protesting against the desecration of the Koran, said provincial police chief Sher Ahmad Maladani. He said there was no violence.
Meanwhile, the Taliban called on people to rise up, blaming government forces for any violence that did occur.
The Taliban said in a statement emailed to media outlets that the U.S. and other Western countries have wrongly excused the burning a Koran by the pastor of a Florida church on March 20 as freedom of speech and that Afghans "cannot accept this un-Islamic act."
The desecration at a small U.S. church has outraged Muslims worldwide, and in Afghanistan many of the demonstrations have turned into deadly riots. Protests in the north and south in recent days have killed 20 people.
"We condemn, in particular, the action of an individual in the United States who recently burned the Holy Koran," said ISAF Commander General David Petraeus and NATO Senior Civilian Representative Ambassador Mark Sedwill in a statement Sunday. "We also offer condolences to the families of all those injured and killed in violence which occurred in the wake of the burning of the Holy Koran."

"We further hope the Afghan people understand that the actions of a small number of individuals, who have been extremely disrespectful to the Holy Koran, are not representative of any of the countries of the international community who are in Afghanistan to help the Afghan people," they added.
On Saturday, U.S. President Barack Obama extended his condolences to the families of those killed by the protesters and said desecration of the Quran "is an act of extreme intolerance and bigotry." But he said that does not justify attacking and killing innocent people, calling it "outrageous and an affront to human decency and dignity."
Eleven were killed Friday when demonstrators stormed a U.N. compound, including seven foreign U.N. employees. A riot Saturday in southern Kandahar city resulted in nine deaths and more than 80 injured.
The Taliban statement said that those killed during the protests were unarmed demonstrators.
"Afghan forces under the order of the foreign forces attacked unarmed people during the protests, killing them and arresting some, saying there were armed people among these protesters, which was not true," the statement said.
Sher Jan Durani, a spokesman for the government of northern Balkh province, where the first riots occurred, said there were multiple armed men among the more than 20 arrested. Afghan authorities suspect insurgents infiltrated the mob.
In Kandahar, officials said 17 people, including seven armed men, have been arrested.
The protests come at a critical juncture as the U.S.-led coalition gears up for an insurgent spring offensive and a summer withdrawal of some troops, and with Afghanistan's mercurial president increasingly questioning international motives and NATO's military strategy.
The Associated Press and NewsCore contributed to this report.