Afghan president visits key city, week after Taliban raid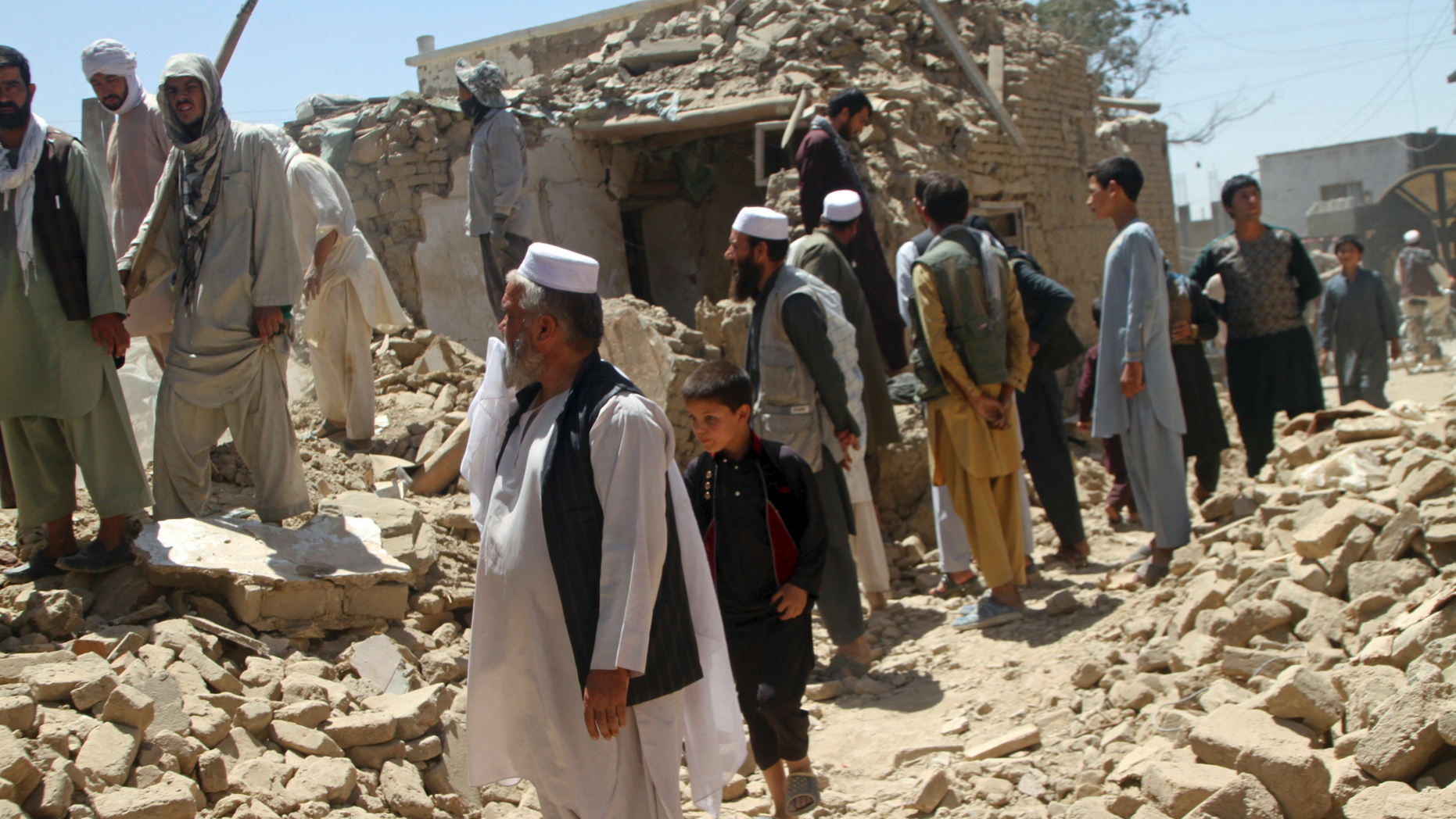 KABUL, Afghanistan – The Afghan president visited the embattled southeastern city of Ghazni on Friday, a week after the Taliban in a surprise attack managed to infiltrate deep into the key provincial capital and capture several areas of it.
Two rockets hit inside the city as President Ashraf Ghani held a meeting at a nearby mosque, witnesses said. A third rocket landed in a nearby river, they said, speaking on condition of anonymity because they were not authorized to talk to the media.
There were no injuries and Ghani was never in any danger. No one claimed responsibility for firing the rockets.
The Taliban hung on in Ghazni for nearly five days before U.S.-backed Afghan forces flushed them out in what were some of the fiercest battles with the insurgents in recent months that killed scores of Afghan troops and civilians.
Security was on high alert as Ghani and the country's Chief Executive Abdullah Abdullah arrived in Ghazni — the capital of Ghazni province, just 120 kilometers (75 miles) from the capital, Kabul — by helicopter from Kabul.
They immediately went into meetings with security officials and elders. Ghani said greater security was needed around district capitals, as well as the provincial capital, and questioned the strength of defense trenches dug around vulnerable areas.
Afghan helicopters also patrolled overhead as the president visited, police official Bilal Ahmad said.
In Kabul, the U.N. office for humanitarian assistance said fighting was continuing on Ghazni's outskirts. According to a report by OCHA, released late Thursday, water and electricity have yet to be restored in many areas of the city of 270,000 people.
The five-day battles with the Taliban in Ghazni, killed at least 100 members of Afghan security forces and 35 civilians before calm was restored on Tuesday. The OCHA report quotes "unverifiable numbers" that put the civilian death toll at more than 200.
Abdul Halim Noori, the head of the Afghan Red Crescent in Ghazni, said six of their teams are still sifting through the rubble in the city, searching for bodies. So far, the aid group has retrieved 270 bodies but there was no breakdown or indication how many were Afghan security troops, Taliban fighters or civilians.
In one home, they found bodies of 11 members of a single family, Noori told The Associated Press.
Even though they were pushed back from the city, the Taliban still hold sway in much of Ghazni province.
During the fighting, the Taliban destroyed the main telecommunication tower, just outside of Ghazni, and torched the television and radio station in the city. According to the OCHA report, mobile phone connection was gradually returning but outages remain frequent.