Afghan president calls Taliban 'slaves' in Pakistan the enemy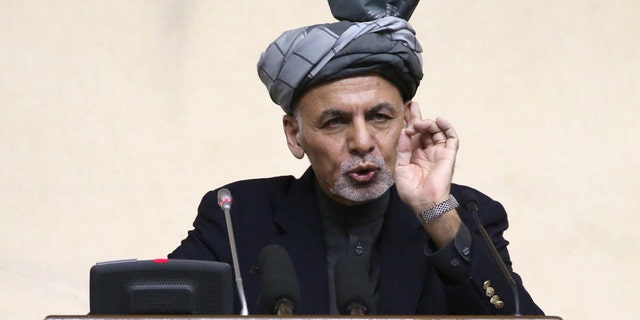 Afghan President Ahraf Ghani declared Monday his country is being threatened by Taliban "slaves" in Pakistan, Reuters reports.
In a speech to Afghan officials, Ghani called Taliban leaders hiding in the western Pakistani cities of Peshawar and Quetta "slaves and enemies of Afghanistan who shed the blood of their countrymen."
Ghani called on the government in Islamabad to take out the extremist leaders, but suggested there is still hope for a compromise, though the opportunity for negotiation "will not be there forever."
While Ghani did not specify whose slaves he believed the Taliban were, the former Afghan President often accused Pakistan's government of harboring the Taliban and other extremsit networks.
Pakistan has denied aiding the Taliban. The group responded with a Tweet saying, "The nation is not blind, people understand who the slave is and who works for the interest of others."
Ghani's statement comes nearly one week after a Taliban bombing that killed at least 64 people and injured hundreds more in Kabul. In recent days, Afghan security forces have thwarted Taliban attacks on Kunduz, the strategic northern city that militants briefly seized last year.
Activists say nearby 11,000 civilians died in Afghanistan last year, with 5,500 security forces killed battling the Taliban, who aim to topple the Western-backed government in Kabul and reinstate Islamic rule.