Afghan police refuse to return to embattled district to fight Taliban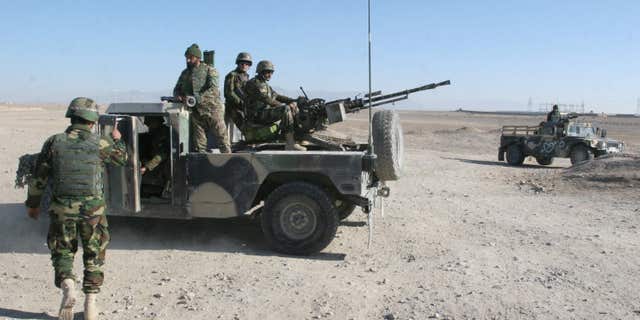 Afghan police are refusing to go back to a southern district under heavy attack from the Taliban, claiming that promised government help hasn't arrived, an Afghan official said Tuesday.

Karim Atal, the Helmand's provincial council director, said that security forces are temporarily staying inside their base in Sangin district, where government forces have been fighting a Taliban onslaught for weeks.
In comments to The Associated Press, Atal also dismissed reports that a military clearing operation had begun in the district. Taliban

attempts to overrun Sangin peaked last week when fighters besieged the base, cutting off supply lines for troops, ammunition and food.
Sangin is a major poppy-growing district in Helmand — the heartland of the Taliban — that produces most of the world's opium, the cash crop that funds the insurgency.
According to BBC, the district is almost entirely under Taliban control after days of intense fighting. A local official told BBC last week that police headquarters and a main government building have fallen to the Taliban.
A few hundred police officers and soldiers have sought refuge at an army barracks and are under attack there.
"We have not seen any help," a police officer told BBC last week. "Support troops have been airdropped at a distance, but all roads are blocked and in the militants' control."
Meanwhile, the Pentagon is pushing to keep Bagram Airfield open beyond 2017 in wake of the Taliban resurgence, defense officials told Fox News on Monday.
The proposal comes on top of President Obama revising his troop withdrawal timetable, agreeing in October to keep a 9,800-troop force through most of 2016 and then draw down to 5,500 -- despite originally vowing to leave a mere U.S. embassy presence in Kabul.
The status of the Bagram base, a vital center of operations located 30 miles north of Kabul, could well be the next front in the Pentagon's efforts to keep options open for the long-term U.S. presence in Afghanistan.
"If you don't leave a sizable force inside Afghanistan, the whole place will go to hell," one U.S. official said.
Taliban resurgence throughout the year have stirred concerns on Capitol Hill, and in Kabul, about the Obama administration's end-game for the war.
Officials consider Bagram Airfield too valuable to close for fear of continued destabilization in Afghanistan and beyond. Special operations forces have carved out a section of the base to house their assault force and helicopters for missions throughout the region. Air Force F-16s also are based at Bagram and conduct airstrikes against the Taliban and other jihadist groups.
Thousands of Afghan military soldiers have been killed in the past year; Afghan security forces suffered 27 percent more casualties in 2015, according to the report. In addition to gains by the Taliban throughout Afghanistan, an Islamic State offshoot has gained a foothold in Nangarhar Province in the east and is competing with the Taliban for influence.
After watching the Taliban make gains amid the questionable performance of the Afghan military and police force, officials in Washington do not want to see the country fall apart -- concerns that are driving the push to make the U.S. military presence in Afghanistan a long-term one.
The Taliban now control or at least have a sizable presence in roughly 30 percent of Afghanistan – the most since 2001 – according to The Washington Post.
In the past three months, Atal also said, the fighting
in four districts of Helmand had killed about 700 policemen and wounded 500. In addition, precise casualty figures were often difficult to obtain as the police lacked a "proper management system," he added.
Total casualty figures for Afghan security forces have not been made public by the defense or interior ministries, but are said by NATO military sources to be 28 percent higher than in 2014, when the total toll was around 5,000.
Fox News' Lucas Tomlinson and The Associated Press contributed to this report.